Saints Outslug Clarendon in Road Win
Brock Kappelmann - March 19, 2019 9:53 pm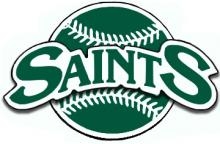 Phillip Lee
CLARENDON, Texas – The Seward County Community College baseball team exploded for 16 runs in the first four innings en route to a 21-12, run-rule, eight-inning, victory at Clarendon College on Tuesday. The Saints, who improved to 12-11 overall, plays at Butler Community College at 1 p.m. on Thursday.
Seward jumped out to a 7-0 lead in the first inning thanks to a little help from Clarendon pitching. After a pair of singles by Zane Alexander and AJ Folds, Cayde Ward was hit by a pitch to load the bases. Benny Ayala drove in the first run with a sacrifice fly then Ben Tsui walked to load the bases again. Joe Kuhn walked and Richard Armijo was hit to drive in two more runs. Wyatt Grant singled to load the bases again and Kason Haggard followed with a sacrifice fly. In his second time up in the inning, Alexander doubled in a pair of runs to end the scoring.
After Clarendon scored three times in the bottom of the first, Seward added another run in the second, but the Bulldogs scored three more runs in the home second to cut the deficit to 8-6.
The Saints would put the game away with an eight-run, fourth inning to open a double-digit lead at 16-6. A three-run homer by Haggard and a two-run blast by Tsui keyed the inning. Ward, Ayala and Folds each added run-scoring doubles to finish up the inning.
Clarendon tried to answer back with two runs in the fourth, but Seward scored single runs in the fifth and sixth innings. The Bulldogs scored four more times in the sixth to cut the gap to 18-12, but could get no closer. The Saints closed the scoring with three more runs in the eighth.
Six Seward players had a multi-hit game in leading a 17-hit assault. Haggard drove in four runs, Tsui drove in three and Alexander, Ayala, Armijo and Grant each had two RBIs for the Saints.
Steven Craddock (1-0) in his first start of the season, gave up eight runs, seven earned, on four hits, struck out five and walked six over four innings. Rene Ramirez relieved Craddock and gave up four runs, three earned, on four hits, struck out four walked two and hit a batter over the final four innings.