Saints Open Volleyball Season Monday
Brock Kappelmann - August 19, 2022 6:29 am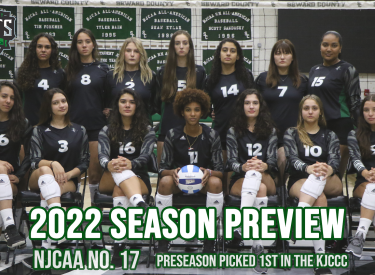 By: Kenny Hernandez
LIBERAL, Kan. – Seward County Community College volleyball program is ready to start the 2022 season. The Lady Saints enter the year ranked No. 17 in the NJCAA preseason poll and voted on by the conference coaches to win the KJCCC regular season title. Their first match will be in Borger, Texas, as they take on Frank Phillips College on Monday, August 22nd at 6 PM CT.
The Lady Saints will have a strong core of sophomores returning from the 2021 season, including two players (Seyun Park and Ileim Terrero) returning for their third season with the program. Out of the 14 team roster, 11 are sophomores, and nine of them were on campus last year that helped Seward County to a Region VI runner-up finish (Ana Cambraia, Malena Catala, Sarah Cruz, Jessica Sales, Logan Dodge, Park, Terrero, Laura Almeida, and Michell Jerez). In addition, the reigning Freshman of the Year in the KJCCC, Sarah Cruz returns for her sophomore campaign and is eager for more. Cruz led the team last year with 382 kills, 3.38 per set, and 866 total attacks.
On August 24th, the Lady Saints will start conference play at Colby Community College at 6:30 PM. The season's first tournament will be at the Ranger/ Wrangler Classic on August 26th-27th before the home opener on August 31st against Hutchinson Community College. Next, the Lady Saints will travel to McCook Community College and face the back-to-back reigning champions and current No. 1 team in the nation, Iowa Western Community College, on September 3rd. They will return on September 6th to take on the Cougars from Barton in the Green House at 6:30 PM. Another big tournament will be a trip to Las Vegas, NV as the Lady Saints will face Arizona Western, No. 4 Florida Southwestern, Pima, and No. 15 Polk State College from September 8th to September 10th. Finally, they will return to conference action on September 17th in the Greenhouse against Cloud County Community College.
Out of the 33 scheduled matches, the Lady Saints will have nine home events: Hutchinson (8/31), Barton (9/6), Otero (9/14), Cloud County (9/17), Colby (9/28), Garden City (10/5), Dodge City (10/12), Butler (10/14), and Pratt (10/22). Notable events will be sophomore night held on October 22nd as Pratt arrives in Liberal and other event dates to be released.
Fans can watch all Lady Saints' home, and conference matches at SewardSaints.com and will provide updates for the away tournaments regarding live-streamed games. The official website will also have up-to-date news, stats, photos, and other information regarding the program. For real-time updates, follow the Saints Athletic social media accounts on Twitter, Facebook, and Instagram.