Saints On Point in Win Over the Panthers
Brock Kappelmann - November 7, 2016 6:27 am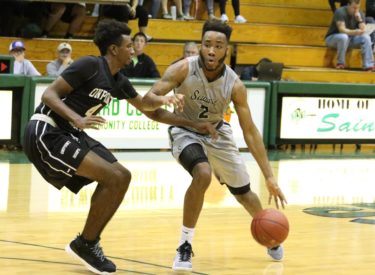 The Seward County Saints won their second straight game in decisive fashion Saturday night in the Greenhouse, topping visiting On Point Prep 100-72 to improve to 2-1 in the early season.
Seward looked good early on, taking a 9-5 lead to begin the game, but the Panthers hung around for most of the first half, trailing the Saints by just two, 23-21 as the period neared the midway point. Back to back buckets from Charles Beauregard pushed the Saints in front by six and it remained a six point game until Jeromie Simmons canned a three from the wing to put Seward in front by nine 34-25. The Saints eventually stretched their lead to 14 before a pair of late baskets by On Point cut the lead to an even 10 before the break at 52-42. On Point actually outshot the Saints in the first half 48% to 44%, but Seward forced 16 first half Panther turnovers, turning them into 16 points for the 10 point halftime lead. Kevin Sims led the Saints with 11 points in the half while Beauregard chipped in eight and the Seward bench did their part with 24 first half points.
The Saints came out ready to go in the second half and on the shoulders of Sims, quickly extended their lead to 19 at 63-44. A bucket on the inside by big man Martavious Wilson gave the Saints their first 20 point lead of the night and a putback dunk from Ernest Carter added onto that. Seward continued to pile the points on the Panthers who offered little defensive resistance. Spencer Franklin's dirty work on the inside gave the Saints a 90-62 lead with 6:00 to go and a drive and score from Malik Brown in the final minute gave Seward triple digits which is where they finished in a 100-72 victory.
Seward shot 66% in the second half to finish the game at 53% overall. Five Saints reached double figures in the win led by Sims with a game high 23 and Beauregard who had 16. Simmons and Brown each had 10 off the Seward bench and Carter who also entered the game as a reserve finished with eight points and a game high 10 rebounds.
The Saints improve to 2-1 on the year while On Point drops their first official contest to fall to 2-1.
Up next for Seward is their final non-conference tuneup of the season on Tuesday when they will take on Frank Phillips in the Greenhouse at 8:00. Free tickets are available courtesy of our buyout sponsor Pizza Hut at either of their Liberal locations.
SEWARD COUNTY/ON POINT PREP BOX SCORE<http://www.sewardsaints.com/sports/mbkb/2016-17/boxscores/20161105_f71f.xml?view=boxscore>