Saints Move into First Place Tie After Split
KSCB News - March 27, 2013 7:26 am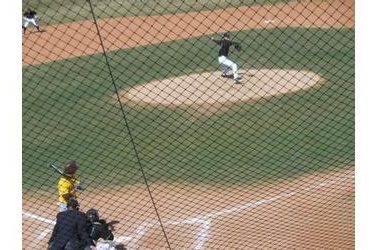 Seward split at Garden City Tuesday afternoon to take three of four in the series. The Saints lost 7-4 but won 5-1 to move into a tie with Dodge City at 10-6 in the Jayhawk West.
The day got off to a inauspicious beginning when starting pitcher T.J. Looney left after one inning due to a sore elbow. Seward scored two in the first but the Broncbusters plated single runs in the first two innings to tie it and scored three in the third to make it 5-2. The Saints made it interesting in the sixth after a two out two RBI single by Jacob Fuller made it 5-4. But the Busters added two insurance runs in the sixth. Garden's Tyler Alitz and Mason Fischer both homered in the win. Derrick Valenzuela came on in spot relief and pitched six innings allowing six runs.
Seward lefty Hayden Howard (2-3) pitched six and two-thirds solid innings allowing one run for the win. Tyler Wiedenfeld pitched one and two-thirds scoreless and Austin King worked a scoreless ninth. Both started games Friday and won but were available after games were weathered out Saturday, Sunday, and Monday. Offensively, Devan Nelson was 3-4 with an RBI and Bryson Allen was 2-4 with a triple and a double. Diego Cruz was 2-4 with two RBI's.
Seward is 16-19 overall but 10-6 in the Jayhawk West while Garden City is 11-14 overall and 7-5 in the Jayhawk West.
Seward hosts Hutchinson Friday at 3 p.m. and Saturday at 1 p.m. Game one Friday and both games Saturday will air on Talkradio 1270 and kscbnews.net.