Saints Make Sure the Butler Didn't Do It
KSCB News - February 25, 2013 7:34 am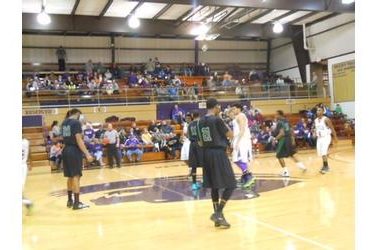 Seward won on the road at Butler Saturday night 73-60 to continue to control their own destiny to win a third straight Jayhawk West crown. The Saints led throughout this contest taking a 31-27 lead into the locker room at the Power Plant in El Dorado. The Saints led by as many as nine in the second half on Butler's Sophomore Recognition Night and a night when they recognized their 1953 NJCAA championship team.
Kaheem Ranson, from nearby Wichita Southeast poured in 26 points and Leslee Smith scored 15 points and grabbed 10 rebounds.
The Saints shot 48 percent and forced 22 Butler turnovers.
The Saints are 21-7 overall and 12-2 in the Jayhawk West trailing Hutchinson by a half game after the Dragons played Sunday and won in overtime at Pratt. Butler is 22-7 overall and 10-5 in the Jayhawk West.
The Saints are still scheduled to host Garden City Monday night despite campus being closed due to a blizzard. A decision is expected to be made by noon.
Sun. Feb. 24
D1#6 Hutchinson def Pratt 78-70 OT*
D1RV Barton def Colby 67-65*
Sat. Feb. 23
Highland def Fort Scott 79-74**
Neosho County def Johnson County 71-67*
Kansas City KS def Labette 64-60*
D1#2 Coffeyville def Independence 101-87*
Cowley def Allen 71-61*
Northwest KS Tech def D2#4 Brown Mackie 98-86
Seward County def Butler 73-60*
D1RV Barton def Pratt 78-56*
D1#6 Hutchinson def Cloud County 86-76*
Dodge City def Garden City 64-45*