Saints Make Quick Work of Broncbusters
KSCB News - March 15, 2014 10:44 pm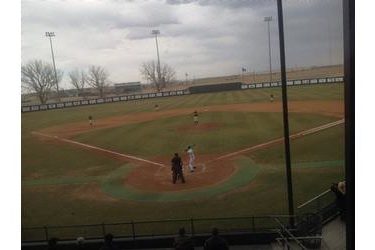 The pitching was so good, the games only took three hours and forty minutes. Seward out-dueled Garden City 3-2 and 4-2 Saturday at Brent Gould Field.
In game one, JB Olson improved to 4-0 striking out seven without issuing a walk. Garden scored a run in the first but the Saints countered with two in the first thanks to an RBI single by Jordan Leinweber and Kevin Connolly drove home a run. Garden tied the game with a run in the fifth but Leinweber drove home the lead run in the bottom of the fifth. Brent Williams was 3-3 and Leinweber was 2-3 with two RBI's.
Austin King improved to 4-0 by pitching eight and two thirds in the win. Adam Guay retired one man for the save. Kevin Connolly whacked tries to lead off the the fourth and fifth and scored in both instances. Brandon Urquizo drove home a run in the second with a smash to third and Mason Marshall lofted a single to right center in the fourth to drive home the run. The Busters knotted the score with a pair in the sixth. Marshall lined a double down the right field line to make it 4-2. King struck out nine in the win and has 36 K's and no walks this season.
The Saints are 16-10 overall and 7-3 in the Jayhawk West while the Busters are 12-11 and 5-5. The teams have postponed Sunday's game due to the weather and with better weather expected Monday will play at 3 at Brent Gould Field on 1270 and kscbnews.net.