Saints Kick Off Inaugural Season
Brock Kappelmann - August 24, 2023 6:29 am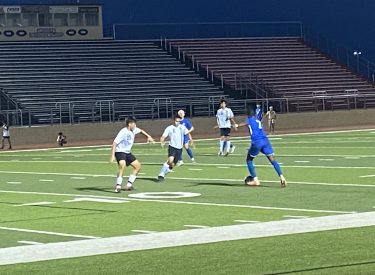 Jay Daubenberger
Liberal, KAN. – Seward County men's soccer made history for their program by playing their first ever game Wednesday against Kansas City Kansas. Unfortunately, the Saints were not able to put history on their side as they fell 4-1 to the Blue Devils in the program's first ever game.
Seward County and Kansas City Kansas fought back and forth early in the first half until KCK earned their first goal of the game off a penalty kick to put themselves ahead 1-0. Despite the early Blue Devil goal, the Saints powered through and prevented KCK from increasing their lead thanks to back-to-back saves from freshman goalkeeper Bruno Mestres. With fourteen minutes left to go in the first half, history was made for the Saints as the program's first goal was scored by freshman midfielder Leonardo Anez was able to sneak his attack right past the Blue Devils' goalkeeper to tie the game at 1-1. Seward County was ready to head into halftime with the score tied but KCK had other plans, sinking in another goal with eight minutes remaining to retake the lead 2-1 heading into the halftime break.
The second half was not in favor of the Saints as the Blue Devils were able to increase their lead early in the half to increase the score 3-1 over Seward County. A final penalty kick from KCK allowed them to grow their lead to 4-1 with three minutes left and that was all she wrote for the first soccer game in Seward County athletics history.
The Saints had multiple chances to decrease their deficits, with ten total attacks on goal with Anez's goal being the only one to sneak in to put SCCC on the scoreboard. Zane Beg and Finlay Mccole each had two attacks while five other players recorded one each. Mestres recorded ten saves on the night off thirteen attacks from the opponent.
Seward County will be back in action on Saturday at 3 PM at home against Tabor College where they will once again kickoff on Redskin Field at Liberal High School in Liberal, Kansas.