Saints Inch Closer to Jayhawk Volleyball Title
Brock Kappelmann - October 20, 2018 6:47 am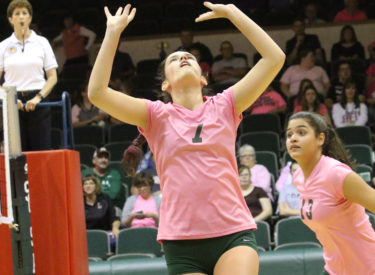 LIBERAL, Kan. – After a sluggish start, the No. 8 Seward County volleyball team bounced back to win their seventh straight match, sweeping the Butler Grizzlies on Dig Pink Night, 25-21, 25-16, 25-14. Seward sits just one game away from clinching a share of the Jayhawk West title for a third straight year.
While wearing pink, the Lady Saints did not put forth a pretty first set, as they came away with a hitting percentage of just .061, their lowest singles set hitting percentage on the season. Hitting errors riddled Seward throughout the first set. After taking a 16-13 lead late in the set, three straight Seward errors tied it at 16. Despite struggling with their attacks, the Lady Saints still managed to put the Grizzlies away in set one 25-21 as Luz Sierra ended the set with an emphatic block that would set the tone for the remainder of the match.
Seward came out in the second set swinging, taking an early 8-2 lead off five kills. The Grizzlies battled back, cutting the lead to 13-10, but a Giovanna Tapigliani kill jumpstarted a 9-2 run to give Seward a commanding lead. After trading points, Sierra was responsible for ending the set again, this time with a kill. Seward finished with a match-high 18 kills in set two, as they increased their attack percentage to .302.
The Lady Saints fell behind early in set one, but quickly overcame the deficit to take an 11-7 lead with a Laura De Pra kill. The Grizzlies cut the lead to two points moments later, but from that point on it was all Seward, ending on an 11-2 run to take set three 25-14 and complete the sweep. Set three was Seward's most efficient, connecting on 43.3 percent of their swings and committing just two attacking errors.
Seward was led by Sierra (13 kills) and Djuly Schmorantz (12 kills), both finishing with a double-digit kill total. Sierra added three blocks to give her 15.5 points on the match. The offense was paced by Laura De Pra, who finished with 31 assists.
Defensively, Nathiellen Machado added 10 more digs to her career-total as she now sits in 7th place in Seward County history with 917 career digs.
Seward will wrap up their home slate on Monday (Oct. 22) when they host the Independence Pirates at 5:30 p.m. in the Greenhouse for sophomore night.