Saints Wait to be Great in Split
Brock Kappelmann - March 16, 2019 7:56 am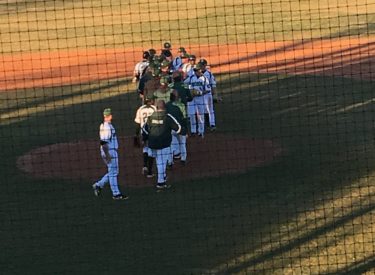 Seward was outscored 21-11 at Brent Gould Field Friday afternoon and evening.  But they got the split to begin their series with the visiting Cloud Thunderbirds.  Cloud run ruled Seward in the first game 16-5 in five innings and the Saints took the second game 6-5.  Seward didn't lead all day until the bottom of the eighth of game two.
In game one, the T-Birds scored 16 runs on 18 hits in just five innings.  They scored one in the first, six in the second, seven in the third, and two in the fourth.  They chased SCCC starter Tanner King with two outs in the third.  Seward had mixed results against Cloud starter and future Wichita State Shocker Austen Seidel.  They struck out seven times in four innings but scored four runs on four hits.  Cayde Ward homered to left center in the second.  Owen Martin doubled and scored after an error.  Jose Caraballo doubled to right center to make it 7-3 in the second.  Seward scored after Braxton Allen and Benny Ayala singled in the third and Allen scored on a passed ball.  Seward added a run in the fifth after Ayala singled and Ward singled leading to a Martin sac fly.  Cloud out-hit the Saints 18-7.
Cloud jumped to a 4-0 lead in game two.  Seward's Cole Evans pitched well but pitched in bad luck as the Saints lost several pop ups in the sun on what was a sunny and calm day with temperatures in the 40's and 50's.  Evans went five innings striking out six with two walks.  Ryan Thomas entered the game with the Saints trailing 4-0.  Thomas only allowed one unearned run in four innings.  Seward began the rally with two outs in the fifth after Jose Caraballo singled and Cruz Shope double.  The error in center allowed Caraballo to score.  Seward tied it in the sixth.  Again with two outs, KP Werner tripled, Owen Martin singled him home, Zane Alexander doubled to right center to make it 4-3, and Wyatt Grant singled to right to tie the game 4-4 in the sixth.  The Thunderbirds scored an unearned run in the seventh to lead 5-4.  The Saints took their first lead of the day in the eighth.  Werner doubled to lead off the inning.  Grant grounded a single to right to tie the game 5-5.  Caraballo ripped a double to left center for the 6-5 lead.  Thomas worked a scoreless ninth for the win. The Saints out-hit the T-Birds 13-12 and both teams had two errors a piece.
Seward is 11-9 and 4-2 in the Jayhawk West and Cloud is 11-6 and 4-2 in the Jayhawk West.  The two teams play Sunday at 1 in McPherson as Cloud's field remains too wet.  The games Sunday air on 1270 and kscbnews.net.
Game 1 audio:
Game 2 audio: