Saints Howard National Pitcher Of The Week
KSCB News - May 8, 2013 12:58 pm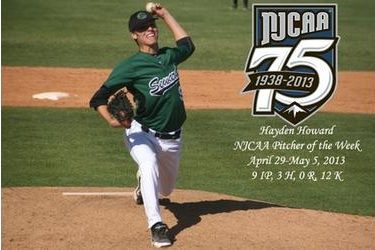 Seward County lefty Hayden Howard may be a 19 year old
freshman but he certainly hasn't pitched like it this season. The
Saints #2 man pitched one of the finest games in Seward County baseball
history on Saturday to send the Saints on to the next round of the
Region VI Tournament and by doing so, Wednesday was named the NJCAA
National Pitcher of the Week.
Howard was outstanding once again for Seward County on
Saturday, throwing a three hit shutout and striking out 12 in a 1-0
Saints win over Independence in the 1st round of the 2013 Region VI
Tournament. Howard gutted out a 131 pitch performance and Seward needed
every bit of it as they went scoreless until the 9th inning before
Howard slammed the door in the top of the inning and the Saints won it
in walk off fashion in the bottom of the 9th 1-0. His 12 strikeouts are
the most by a Seward pitcher since the 2008 season when Tomas Cruz
struck out 12 Butler batters in a game. Howard has not allowed a run in
17 2/3 straight innings and during that span has allowed just 4 hits
while striking out 23. He is the first Seward pitcher to win the award
since closer Willy Gustin did it in the opening week of the 2011 season.