Saints Host Basketball Preview Night Thursday
Brock Kappelmann - October 27, 2016 3:27 pm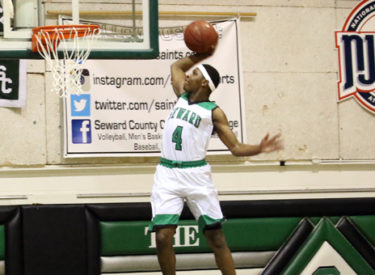 Tonight the Greenhouse will be filled with ooh's and ahh's as the Seward County Saints and Lady Saints show off their skills on a fun night of competition at the annual Saints Bookstore Basketball Preview Night.
The night will begin with an autograph signing in room 229D next to the Saints Hall of Fame at 5:30 , where fans can pick up a free poster and have it signed by their favorite Saints and Lady Saints. At 6:00 the action will move into the Greenhouse where the night will begin with some fun interactive games for fans to participate in with the Saints and Lady Saints. The Dribble Relay Competition will see the Saints and Lady Saints combine to show off their speed flying up and down the floor in a heated race. The Battle of the Sexes Three Point Contest will follow that where the Saints and Lady Saints will square off head to head for yearlong bragging rights. The highlight of everyone's night will be the Dunk Contest where four high flying Saints will put on a show for the crowd where three special guest judges will be along for the ride.
The Seward Cheer and Dance squads will have their first performance of the year before the Saints and Lady Saints get officially introduced and square off in intersquad scrimmages. Along with all of that action, the Saints Athletics Department will also reveal their new Athletics logo and the idea behind a mascot coming to the Greenhouse soon!
If you can't make it to the Greenhouse for the big night, you can always watch live thanks to First National Bank of Liberal by CLICKING HERE<http://vcloud.volarvideo.com/volar/widget?id=134> beginning at 6:00.
Roy Allen