Saints Host Basketball Preview Night Oct. 24
Brock Kappelmann - October 18, 2017 6:27 am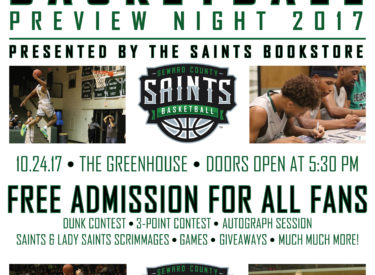 LIBERAL, Kan. – The official tip-off of Seward County basketball, the Saints Bookstore Preview Night, will take place in the Greenhouse on Tuesday, October 24. The night will serve as the first time fans can meet the 2017 Saints and Lady Saints basketball teams, while enjoying contests, games, and even a live scrimmage.
The night will begin at 5:30 p.m. with a free autograph session, where fans can pick up a poster and get it signed by their favorite Saints and Lady Saints. At 6:00, the event will move into the Greenhouse where fans will have the opportunity to be involved in contests and games. The contests will end with a 3-Point Competition between the Saints and Lady Saints team for yearlong bragging rights, followed by the Dunk Contest, where four Saints will take flight to impress the crowd.
Once the contests are done, the Seward cheer squad will have their first performance of the year, before the Saints and Lady Saints are officially introduced and compete in intrasquad scrimmages.
[cid:image002.[email protected]1AE7A610]
Ian Applegate