Saints Hold On for Homecoming Win
Brock Kappelmann - February 13, 2022 8:54 am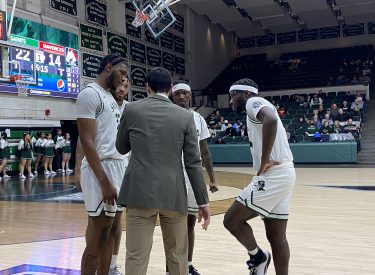 On a night when Adrian Torres and Natalie Portillo were crowned homecoming king and queen, Seward sent the home faithful home happy Saturday night.  Seward won a rugged and defensive oriented game 54-52 over the Northwest Tech Mavericks Saturday night in the Green House.
The Saints took early leads of 14-10 and led 26-14 with 4:40 to play in the first half.  This was the biggest lead of the night for the "Guys in Green."  SCCC led 28-19 at halftime.  The Mavericks began the second half on a 15-2 run to lead 34-30 with 12 minutes remaining.  Seward came back to lead 38-35 with 8:25 remaining.  Seward led 41-37 before Northwest Tech roared back on an 11-0 run to lead the Saints 48-41.  Northwest Tech led 50-43.  Seward's 6-0 run made it 50-49 after Kevon Cooper's 3 from the top of the key.  The Mavs led 52-50 but out of a time out, Bee McCrary found Harvin Ibarguen on an alley oop dunk to tie the game at 52-52 with about 50 seconds left.  Bee McCrary's left baseline jumper gave the Saints the 54-52 lead with 15 seconds left.  Seward tipped an inbound pass away with 2.6 seconds left to secure the win.
Seward held Northwest Tech to 36 percent shooting.  Seward shot 39 percent.  Bee McCrary had 11 points with six assists and five rebounds.  Will Dubinsky had 11.
Seward snaps a five game losing streak.  The Saints are 10-17 overall and 7-14 in the Jayhawk.  Northwest Tech is 7-18 overall and 4-15 in the Jayhawk.  Seward hosts Barton Monday night at 8 on 107.5 and the KSCB and The Legend App.  The Community Bank is the game sponsor.