Saints Hall of Fame to Induct Walton and Houston in April
KSCB News - January 28, 2016 6:34 am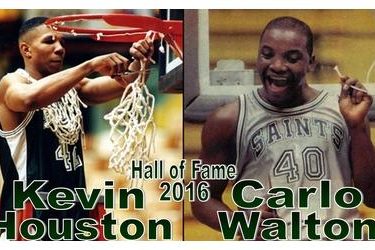 The call to the hall has come for a pair of former Seward County Saints Basketball players as Region Champions and All-American's Kevin Houston and Carlo Walton will be enshrined in April at the annual Hall of Fame Banquet as announced Wednesday night between Seward County's games against Garden City.
Kevin Houston is one of just four players in Seward Men's Basketball history to receive an illustrious 1st Team All-American honor. He is the school's all-time leader in both free throws made with 411 and is the only player to ever record more than 500 field goals in a career. He is the second all-time leading scorer with 1,485 career points and is also third in school history in rebounding with 651. Houston was the Jayhawk West Freshman of the Year and followed that up with a sophomore season in which he led the Saints to the NJCAA National Tournament with a Jayhawk West Conference Most Valuable Player worthy campaign.
Carlo Walton is one of the finest guards to ever don a Seward County jersey. He is the all-time leader in three major categories including steals with 224, assists with 436, and three pointers with 159. His 1,422 career points are third most all-time, as is his 20.6 career scoring average. He was the Jayhawk West Freshman of the year in his first season in green and white and was also named a 2nd Team NJCAA All-American. In his second season, Walton led the Saints to a then school record 32 wins and the NJCAA National Tournament with a Jayhawk West Most Valuable Player and Region VI Tournament Most Valuable Player season.
The pair will take their place on next to the 11 individuals and one team already enshrined in the Hall of Fame on April 22nd during the annual Hall of Fame Banquet in the Greenhouse.