Saints Grind Out a Win in Trinidad
Brock Kappelmann - November 8, 2022 11:16 pm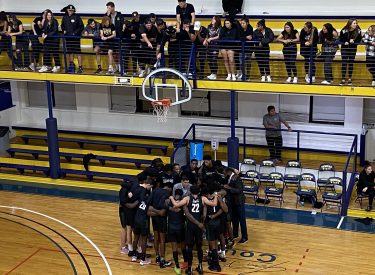 With the fans in Trinidad's Scott Gym seemingly caving in on  them, the Seward County Saints took an 81-77 decision Tuesday night.  Seward gained a team building road win against a program which won their region last year.
The Saints played smothering defense in the first half in building a 19-7 lead.  SCCC led 25-17 and led 33-27 at the half.  The Trojans jumped out to a 52-48 lead with 11:48 play.  The Saints went on a 13-2 run to lead 61-54.  TJC tied the game at 66-66 with 3:18 remaining.  Seward vaulted to a 76-69 lead with 1:25 to play.  Trinidad wouldn't go away quietly into the Colorado night as they closed to with one a 78-77 with 16 seconds left.
The Saints won despite 25 turnovers but forced 23 turnovers.  Seward shot 44 percent and Trinidad made 47 percent of their shots from the field.  SCCC was 10-29 from three point range and 15-20 from the free throw line while Trinidad was 9-28 from three and 12-19 from the foul line.
The 2-0 Saints play in the Cougar Palace against Western Nebraska Thursday night at 7pm.  Trinidad State is 2-2.  Seward's next game on B107.5 will be the KJCCC opener Wednesday at Pratt.