Saints Grab Big Win at Barton
Brock Kappelmann - March 16, 2021 6:35 am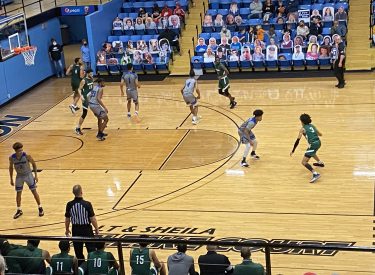 Kenny Hernandez
BARTON, Kan.- Seward County Community College men's basketball team defeats Barton Community College 82-80 with a lay-up by Stephen Tayki in the final minutes of the game. The Saints are on a three-game winning streak and improves to 5-7 overall and in conference play. Freshman Erik Pratt led Seward County with a season-high 28 points, seven rebounds, and two blocks in the win.
In the first half, the Saints found themselves with an early 16-12 lead after a three-pointer from Samuel Henderson with 13 minutes left in the half. The Cougars quickly took the lead and jumped ahead 28-18 after a 16-2 run in just four minutes of play.
The largest lead of the game for Barton came after a triple to lead 34-23 with 7:20 left in the half. Back-to-back buckets for the Saints from Kevon Cooper and Ahmed Ibrahim chipped at the lead immediately. Seward went on a 9-4 run to close out the half and went into the locker rooms down 43-41.
In the second half, both teams exchanged baskets early on and the Saints trailed by one 49-48 at the 15-minute mark. The Saints would go on a 12-3 run to take their largest lead of the game 61-52 after a lay-up from Mike Rivera with 9:30 left on the clock. The Cougars responded with a 10-1 run to tie the game once again at 62 all. Down the stretch, neither team would budge an inch and the importance of every possession was shown by both teams.
Erik Pratt connected on a lay-up with less than a minute to go that gave the Saints a 78-72 advantage but the Cougars responded with a quick three to get it back to a one-possession game. After a pair of made free throws, Seward County had an 80-75 lead and once again Barton responded with a triple to make a two-point game 80-78. The Saints would turn the ball over in their backcourt and a foul with eleven seconds left put Barton at the line and they would tie the game at 80 all. Seward County's Branton Bee McCrary took the ball coast to coast and found an open Stephen Takyi for a reverse lay-up to put the Saints up 82-80 and with three seconds left Barton was unable to get a shot off. Seward held on for their third victory in a row and will look to build on the success.
Seward County's other top performers were Samuel Henderson with 15 points, Kevon Cooper with 14 points, and Stephen Takyi with the game-winner and seven points.
Seward County will be back home on Wednesday, March 18th to take on Dodge City Community College at 8 pm.