Saints Go to the Boards for a Big Win Over Cowley
Brock Kappelmann - February 12, 2023 10:28 am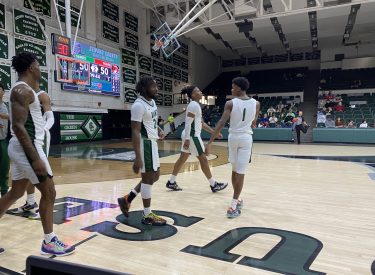 This was a big day for Seward men's basketball.  On a day when the program's all time winningest coach Dave Brown was inducted into the Saints Athletics Hall of Fame, Seward passed two teams in the standings with a 69-60 win over the Cowley Tigers in the Green House Saturday afternoon and evening.  Seward moved into eighth and passed Cowley and Cloud.
The Saints led throughout the first half taking leads of 23-17, 28-19, 30-21,  and 36-23.  The Tigers made an 11-2 run to make it 38-34.  Seward led 41-34 at the half thanks to a double clutching three by Jaylin Henderson at the end of the half.  Seward took a 45-34 lead before the Tigers made their run cutting Seward's leads to 47-43, and 48-47 before tying the score at 50-50.  Seward led 55-50 thanks to a four point play by Wilson Dubinsky.  Seward led 58-53 with 2:23 to play.
Seward out rebounded Cowley 34-22.  The Saints won despite shooting just 38 percent from the field.  Seward was 7-24 from three for 29 percent.  Seward won the game at the foul line going 20-24 while Cowley was 7-10.  Cowley shot 48 percent.  But after shooting 61 percent in the first half, the Tigers cooled to 36 percent in the second half.  Cowley made 7-16 from three and 7-10 from the free throw line.
Wilson Dubinsky scored 18 points.  Blessin Kimble was the Epic Touch Player of the Game with 11 points and 10 rebounds.  Mario Whitley had 12 points and eight rebounds.  Jaylin Henderson had 12 points and just one turnover.
Seward improves to 13-13 overall and 9-11 in the Jayhawk Conference.  Cowley is 14-11 overall and 8-11 in the Jayhawk.  Seward plays at Northwest Tech Wednesday night at 8:30 central time on 107.5.