Saints Get Road Win at Clarendon
Brock Kappelmann - March 7, 2018 10:36 am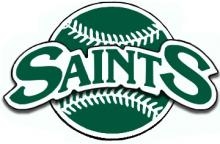 CLARENDON, Texas. – The Seward County baseball team defeated the Clarendon Bulldogs in a midweek non-conference game on Tuesday, winning 9-4. The win pushed them to 12-8 on the season.
The Saints used a full rotation of pitchers, getting as much work in as possible. Eight total Saints got on the mound on the day with Brayden Conner earning the start. Conner pitched one inning, giving up no run on no hits. Dylan Paul (1.0 IP), Jacob Nielsen (1.0 IP), Braeden Gould (1.0 IP), Blake Hale (1.0 IP), Hunter Ratcliffe (2.0 IP), Brooks Williams (1.0 IP) and Carlos Vizcaya (1.0 IP) completed the final eight innings of play. Williams (1-0) picked up the win.
Seward came away with nine runs on eight hits. Jordan Kennedy led the Saints with 3 RBI, while Montana Newell and Austin Tidwell each added two of their own.
The scoring didn't start until the third inning when Austin Tidwell hit a line drive double to left field to score Allen, who reached on a single. Two batters later Newell singled to left field to score Tidwell but was thrown out while trying to extend his single into a double.
The Bulldogs answered the two runs from the Saints in the bottom of the third. Tommy Reyes-Cruz led off with a double and Kingsley Ballao followed with a home run right field to make it 2-2.
A single, walk and hit-by-pitch loaded the bases for Jordan Kennedy, who doubled to left field to score two runs to give the Saints a 4-2 lead.
The top of the fifth provided Seward with more runs, but none came from hits. The first two batters of the inning were hit, with another being walked to load the bases. The Bulldogs walked two more Saints and hit another to score three runs to make it 7-2.
Clarendon got runners in scoring position in the bottom of the sixth with a walk and a double to put Bulldogs at second and third. A groundout by Mark Castelblanco allowed both runners to advance to make it 7-3 before a wild pitch scored another run, putting the score at 7-4.
Seward got the runs back in the top of the seventh. Two walks and a hit by pitch loaded the bases for Ben Tsui who singled through the left side of the infield to score one run. Newell walked with the next at-bat to make it 9-4, Seward.
The Saints will travel to Woodward, Oklahoma to take on Redlands Community College at 1 p.m. on Friday for a double header with the Cougars.
Ian Applegate
Sports Information Director
Seward County Community College
Cell: (620) 417-3187 | Office: (620) 417-1555
[email protected] | SewardSaints.com | @SewardSaints