Saints Force 37 Turnovers in Win
KSCB News - December 6, 2014 7:52 am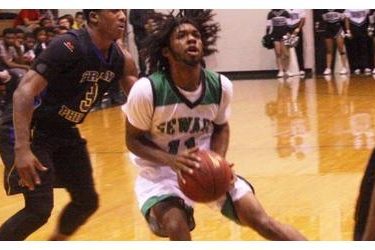 As the calendar turned to December, the Seward County Saints turned things up on the defensive end on Friday night in the Greenhouse as Seward forced visiting OnPoint Academy into 37 turnovers in an 86-57 victory to give Head Coach Bryan Zollinger win number 200 in Seward County green.
The game was never really in question against the visitors from Oklahoma City as Seward used an early 9-0 run to open up a seven point lead and wasted little time in making it a double digit contest as a Derek Dorn jumper put them up 20-7 with 10:24 to go in the first half. Seward continued to pile on their lead and at the 5:38 mark the Saints were doubling up the Prepsters 32-16 after Evan Allen sliced through the lane and scored an easy two. The play got sloppy as the half came to a close and the Saints took a 41-28 lead into the break. The two teams combined for 38 turnovers in the first 20 minutes, 23 from OnPoint and 15 from Seward. Conversely, the two managed just 23 field goals.
The action turned as the second half began, with both teams scoring on their first three possessions of the period. The Saints traded baskets with OnPoint to 56-43, before a 6-0 run, all from Jamal Poplar, gave Seward their largest lead of the night at 62-43. Seward kept on chugging and pushed the lead to over 20 and capped off a run with the highlight of the night as Verdell Mays threw an alley-oop to Poplar who climbed into the rafters for a one handed slam to bring the crowd to their feet and put the Saints up 81-55. Seward went on to take the game by the same margin, winning 83-57 to improve to 3-2 on the year at home.
The final stat sheet wasn't overly pretty for either side as Seward shot 44% in the win while OnPoint managed just 33% shooting. OnPoint ended the night with 37 turnovers while Seward was quite generous with the ball as well, giving it up 24 times. Poplar led Seward with 17 points and 7 rebounds while Nick Singleton scored a career high 15 in the victory.
The win is Seward victory number 200 for Saints Head Coach Bryan Zollinger and improves the guys in green to 5-6 on the 2014-2015 campaign.
Next up for Seward is a date with the Oklahoma Outlaws Saturday night at 8:00 on Hispanic Heritage Night in the Greenhouse.
SEWARD COUNTY/ONPOINT PREP BOX SCORE<http://www.sewardsaints.com/sports/mbkb/2014-15/files/Mens_14-15_SCCC_vs._On_Point_Hoops.html>
Roy Allen