Saints Finally Fizzle from Region 6 Tournament
KSCB News - May 14, 2013 7:27 am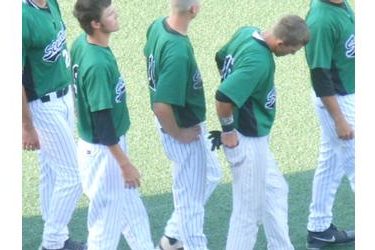 The Seward County Saints finally ran out of gas. The Coffeyville Red Ravens beat Seward 8-4 Monday afternoon at Lawrence-Dumont Stadium in Wichita. The Saints trailed 8-1 going to the bottom of the ninth before scoring three.
The Saints, who have lost five pitchers due to injury this season started Derrick Valenzuela who was 0-2 with an ERA near 10. But much like Garret Smith the night before who was 0-6 with an ERA over 16, Valenzuela stepped up with five innings pitched and three earned runs.
Coffeyville, coached by former BJ coach John Martin, scored three in the second, one in the fifth, two in the sixth, one in the seventh, and one in the ninth. Seward scored one in the fourth when Bret Lewis line a single to left to score a run.
The Saints had opportunities to score runs placing their lead off man on base for six straight innings. Coffeyville's Stephen Foster, who will pitch for the Liberal Bee Jays this summer, struck out eight Saints in seven innings pitched.
Seward finishes 33-29 while the Red Ravens went on to beat Neosho County 5-3 and force a final championship game Tuesday night at 7.