Saints Fight but Fall Short to #17 Cowley
Joe Denoyer - December 11, 2019 9:50 pm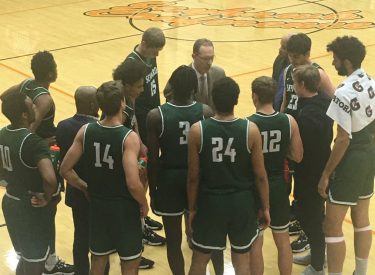 Kenny Hernandez
The Seward County Community College men's basketball team lost on the road to No. 17 Cowley College, 67-63, on Wednesday. The Saints fell to 6-4 overall and 1-3 in the conference.
Despite being shorthanded, Seward was in the game until the very end. With less than 20 seconds to go in the fourth quarter, the Saints were down, 63-61, with the ball, but a turnover turned into a layup for the Tigers, giving them a 65-61 lead.
Entering the game, the Saints would be without eight players due to injury and would have to rely on their depth to step up in their place. Coming into the matchup, the Tigers were averaging 112.3 points per game, ranking second in the nation.
Seward Head Coach Jason Sautter's game plan was perfectly executed as the Saints plan decreased Cowley's possessions with a very deliberate offense and using the majority of the shot clock. This would help the Saints get their offense going early and get the Tigers out of sync.
Seward County ended the first half on a 5-0 run to take the lead for the first time at 29-26 heading into the locker rooms. Before the start of the second half, the Tigers were assessed a technical foul that led to the Saints taking a 31-26 lead after two made free throws.
The Tigers went on a 10-3 run to take the lead early in the second half, 36-34, but the Saints responded with a 12-3 run of their own, to regain the advantage at 43-39. The teams exchanged the lead seven times in the second half.
With 3:53 left in the game, Seward County found itself tied at 58, but Cowley knocked down a three with 3:20 left to give it a 61-58 lead. The Saints tied it at 61, but could not regain the lead as they would turn the ball over three times in the final minute. Cowley held off the Saints and it would all be decided in the final minute of the game.
The Tigers were led by Dalen Ridgnal with 13 points and three rebounds in the contest.
Seward County had three players in double digits. Mohamed El Gohary led the Saints in scoring with 16 points and 13 rebounds, both career highs. Kyle Cardaci also added 12 points, and Ramiro Santiago scored a career-high 11 points.
The Saints are back in action December 27 to take on Triton College in the Fiesta Bowl Junior College Shootout in Mesa, Arizona.