Saints Fall to Allen in Final Minutes
Brock Kappelmann - December 5, 2019 6:04 am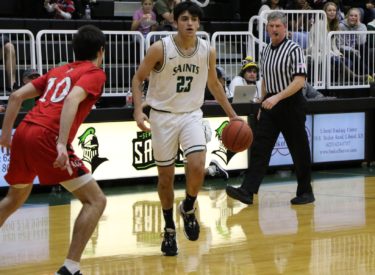 Kenny Hernandez
LIBERAL Kan.- Seward County Community College men's basketball team falls short to Allen Community College 78-75 in the Greenhouse to fall to 6-3 overall and 1-2 in conference play.
Entering the game, the Saints would be without 3 players due to injury and would have to compete with a smaller bench than usual. The Saints depth from the bench showed that they were ready and eager for this home conference game. To start the first half, the Saints would lead 15-4 but the Red Devils would respond as a good team would with a 16-5 run to tie it back up at 20 apiece.
Able to knock down 6 three-pointers in the first half the Saints would jump out again over the Red Devils 37-24 which would turn out to be their largest lead of the game with 3:06 left in the first half. Once again, the Red Devils would respond with a 9-0 run to end the first half and the Saints went into the locker rooms with a 37-33 lead.
To start the second half the Saints would knock down 5 straight free throws to take a 43-35 lead. The Starting point guard Branton McCrary would get ejected from the game with 13 minutes left and the Saints small bench would shrink even more. The Red Devils stormed right back going on a 12-4 run to tie it back up at 47 apiece and would continue to trade baskets and the lead with the Saints.
With 7 minutes left the freshman Stephen Takyi would score 10 straight points for the Saints in the span of 3-minutes but Takyi would commit his fifth foul with 3:31 left in the game. The Saints trailing 70-69 would see their bench once again get smaller.
With a minute left the Saints would trail 76-75 and would need one stop to get an opportunity take the lead. The Saints would give up 3 offensive rebounds and would be forced to foul to extend the game. After the Red Devils Trez Hankins knocked down both free throws the Saints trailed 78-75. One Last offensive possession for the Saints the sophomore Ramiro Santiago would put up a three at the buzzer, but it would not fall for the Saints, they went 0-7 from three-point range in the second half.
Saints were led by Takyi and Rostyslav Novitskyi both with 15 points. Surakata Jawara had another all-around game for the Saints with 9 points and 8 rebounds.
Red Devils were led by Joel Boyce with 21 points, 7 rebounds, and 3 assists.
The Saints are on the road to face off against nationally ranked No. 23 Cowley College on Wednesday at 7:30 PM.