Grant Hits Four Homers in Loss at Vernon
Brock Kappelmann - February 27, 2021 6:47 am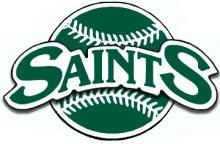 Kenny Hernandez
VERNON, Tex.- Seward County Community College falls short of Vernon College 12-9 in a nine-inning game and the Saints are now 0-5. The Saints trailed 6-2 after the second inning and got back within a run after the top of the eighth inning. The Chaparral's responded with four runs in the bottom of the eightH that gave them the separation they needed to hold off the Saints. Seward County's Wyatt Grant had four home runs in four at-bats and had 5 RBI's to lead the team in offensive production.
In the first inning, the Saints started off hot with a two-out rally back-to-back home runs provided by the middle of the lineup, Wyatt Grant and Braden Boisvert. Vernon College responded in the bottom of the first inning with two runs of their own to tie the game entering the second inning. in the bottom of the second the Chaparral's put together a four-run inning that gave them a 6-2 advantage and the Saints had to work, trailing for the remainder of the game.
To begin the top of the seventh inning, the Saints trailed 8-4 but Grant connected on one of his four home runs and scored Kase Johnson who reached first on a fielder's choice the at-bat before. With a two-run deficit in the bottom of the seventh, Seward County's Colt Bartling took the mound and was able to go one, two, three to get the Saints back in the batter's box. Seward capitalized in the top of the eighth inning with Richard Armijo reaching on a base hit and stole second to get into scoring position. KP Werner provided a single to right field to score Armijo from second and Vernon's lead was cut to one, 8-7.
In the bottom of the eighth inning, the Chaparral's batted around the order and added four more runs to separate themselves one final time with a 12-7 lead over the Saints entering the top of the ninth. Saints Grant started the ninth with another home run and Seward scored one more with Braden Boisvert scoring from third on a single from Reed Thomas.
Saints Sam Berberich was the starting pitcher and gave up seven runs, on seven hits and picked up the loss from the mound.
Seward County will take on Vernon College in another nine-inning game tomorrow (February 27th, 2021) at Noon.