Saints Fall in Conference Opener to #6 Hutch
Brock Kappelmann - November 13, 2016 6:36 am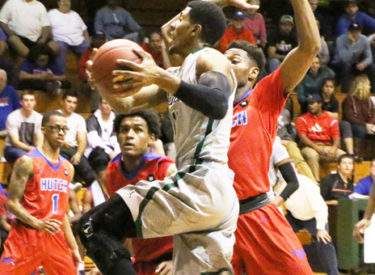 The Seward County Saints began the 2016-2017 Jayhawk Conference season just as they finished the 2015-2016 campaign Saturday night in the Greenhouse, hanging in, but coming up just short in the end in a 95-87 loss to 6th ranked Hutchinson.
In a matchup between two of the teams picked to finish in the top three in the Jayhawk Conference this season by the coaches, it was a defensive struggle early on between Seward County and #6 Hutchinson. Five minutes into the game, it was just a 5-5 game, but Seward couldn't hold Hutch down for long as the Dragons scored 19 points over the next five minute stretch, taking a 24-13 lead into the first half media timeout. The Saints hung around with the defending Jayhawk Conference Champs for the remainder of the first half, but had trouble getting over the hump and watch as Hutch sunk a pair of free throws with no time left on the first half clock to take a 44-35 lead into the break at half.
After the slow start, Hutch had little trouble doing what they wanted against the Saints defense as the Dragons shot 63% in the first half while Seward shot 41%. Kevin Sims led all scorers with 13 in the first 20 minutes of action while Wichita State signee Samajae Haynes-Jones led Hutch with 10.
As the second half began, the Saints quickly pulled to within five at 48-43 and got back to back threes from Sims to cut the Dragon lead to three with 11:30 remaining in the contest. Seward continued to find a way to score against the much bigger Hutch front line, but on the other end, that size was an issue as the Dragons routinely got two and three looks at the rim to remain in front 73-70 with under six minutes to go. It remained a three point game into the waning moments of the game, but again, Seward could not finish off defensive stops with rebounds and because of that watched as the Dragon lead grew to five with a minute remaining and then finally eight at the final horn 95-87.
Hutch again shot North of 50% in the second half to finish the night at 56% overall while outrebounding Seward by 19, including 16 offensive boards. Individually Sims turned in his second 30+ point effort of the season with 33 to lead all scorers while Littlejohn had 16 and Charles Beauregard pitched in 14 for Seward.
Seward falls to 3-2 on the year with the loss while dropping their Jayhawk opener for the first time in four seasons. #6 Hutchinson improves to 5-0 with the victory.
Up next for Seward will be a trip to El Dorado and the Power Plant where they will take on the Butler Grizzlies in a 7:30 tip Wednesday night.
SEWARD COUNTY/#6 HUTCHINSON BOX SCORE<http://www.sewardsaints.com/sports/mbkb/2016-17/boxscores/20161112_lnem.xml>
Roy Allen