Saints Fall Flat on Sophomore Day with Pratt
Brock Kappelmann - May 1, 2023 6:39 am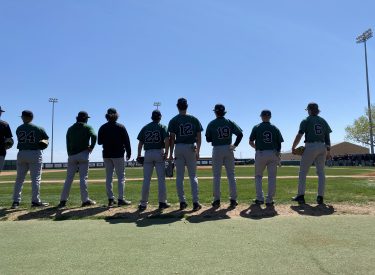 The Seward baseball team finished their regular season with a lackluster Sunday on Sophomore Day at Brent Gould Field.  Seventh place Pratt upended the Saints 7-6 and 8-6.  Seward finishes 20-12 in the Jayhawk West.  Pratt and Seward split the four game series.
In game one,  the Saints scored two runs with two outs in the first.  Jaxson Gregg and Elijah Bear singled and Mason Hagel-Pitt singled home a run.  Tristan Curless singled home a run for the 2-0 lead.  That score stood for four innings and both pitchers were in a rhythm and the wind was blowing in.  Elijah Bear cranked a home run over the right field wall in the fifth for a 3-0 lead.  Pratt responded with four in the sixth to take the lead.  An error allowed two unearned runs.  The Beavers plated three in the seventh for the 7-3 lead.  The Saints rallied in the seventh.  Elijah Bear hit a solo home run.  Mason Hagel-Pitt singled and Tristan Curless hit a two run home run to make it 7-6.   Hits were even 12-12 while the Saints committed two errors and Pratt had one.
In game two, the PCC starting pitcher walked five in the first and SCCC scored five in the first.  Mason Hagel-Pitt walked with the bases loaded.  Trenton Rowan whistled a three RBI double to right center.  Connor Cox hit a sac fly.  Seward's defense fell apart in the third as Pratt scored five unearned runs on one hit and two errors.  Seward re-took the lead in the third as Connor Cox singled home a run to make it 6-5 Seward after three.  The Beavers scored two in the fourth to lead 7-6.  The Saints were held scoreless for the last six innings of the game.  Pratt tacked on an insurance run in the ninth.  Bo Jacob Garza pitched 4 and 1/3 in relief allowing one run.  Seward out-hit Pratt 10-8.   The Saints committed three errors and Pratt had two.
The Saints have lost four straight at home to Pratt.  Pratt is 23-28 and 11-17 in the Jayhawk West.  Seward is 31-24 overall and 20-12 in the Jayhawk West.  The Saints will host a Region 6 best 2 of 3 series next week on 1270 and 92.3.