Saints Fall Flat in Finale
KSCB News - April 27, 2015 7:20 am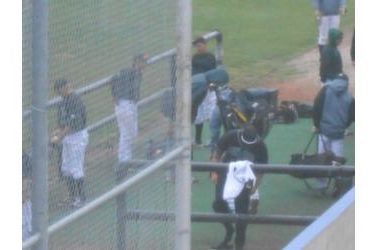 After clinching a Jayhawk West title Saturday night in Hays, Seward traveled to Great Bend to wrap up their regular season on Sunday but left their 'A' game in Hays. Barton swept Seward Sunday on a cool and damp day at Lawson-Biggs Field 10-9 and 5-2. Seward didn't handle the elements well with seven errors.
In game one, Barton built leads of 6-0 and 8-2 before Seward rallied to lead 9-8 but lose to the Cougars 10-9. Barton scored six second inning runs on two hits and two errors allowing six unearned runs for starter Brent Bezio. Seward got back in the game mainly because Barton's starter walked five and beaned three. But Seward scored two in the third before the Cougars added two more unearned runs in the third. Seward scored seven in the fourth. Seward scored two runs on a walk and a beanball with the bases loaded to make it 8-4. Brent Williams single to right center scored two and Dillon Drury's two RBI double down the left field line tied the game. Justin Graff-Rowe's RBI single gave the Saints a 9-8 lead. Barton scored one in the fourth and one in the fifth against reliever Nate Sylvester. Starter Bezio pitched 2.3 innings and allowed eight runs but none were earned and Sylvester went three innings allowing one earned run.
In game, Seward allowed the go- ahead run on a throw from the third baseman to the pitcher. Seward took the lead in the second when Tony Dorado doubled and scored on a Nic Ricigliano sac fly. Barton tied it with a run in the second. Barton scored two in the third before an RBI single by Brandon Urquizo singled home a run in the fourth to make it 3-2 Barton. The Cougars tacked on two more in the sixth. Thomas Garland pitched five innings allowing four earned runs. Jakob Hernandez pitcher three scoreless innings of relief.
Seward finishes 21-11 and on top of the Jayhawk West while Barton finished 16-16 in conference. Seward is 32-22 overall and the Cougars are 26-25. Seward hosts Frank Phillips Tuesday at 3 and hosts Highland Saturday at 1 to begin the Region 6 Tournament at Brent Gould Field for a best 2 out of 3 series. The SC games air on 1270 and kscbnews.net Saturday and Sunday if necessary.