Saints Fall by One at Barton
Brock Kappelmann - January 28, 2020 5:53 am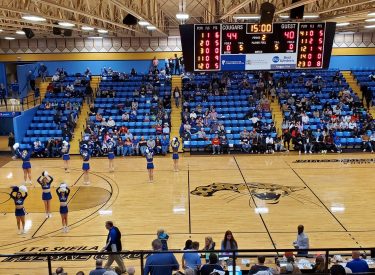 Kenny Hernandez
GREAT BEND, Kan.- Seward County men's basketball team came up short on the road to Barton Community College 86-87, now 12-9 overall and 5-7 in conference play. The Saints had an 86-85 lead with 13 seconds left but the Cougars connected on an inbound play with just 3 seconds left to give them the victory.
First half action the Saints climbed to their largest lead of the game 21-15 with 11:26 left to go after a three-pointer by Kyle Cardaci. Quickly the Cougars responded with a 12-4 run to regain the lead 27-25 with a lay-up by Desean Munson. Barton kept the lead for the remainder of the half to led 44-40 at halftime. Greg Johnson had a perfect 4-4 from the field for a team-high nine points after the first 20 minutes of action.
The second half Seward took the lead 51-47 with 15 minutes left in the game but Barton started to catch fire from behind the three-point line. The Cougars responded with a 23-7 run and jumped up to a 70-58 with 10 minutes left in the contest. Barton claimed a game-high 13-point lead with less than five minutes remaining, 68-81. The Saints did not give in to this lead or waver in confidence in their own game with their full-court defense creating turnovers that turned into easy baskets for Seward. The Saints went on a 13-2 run in a three-minute stretch to give them the lead, 84-83 in the final minute of action.
During the last 60 seconds, there were 3 lead changes and each team scored on with their possession, but Barton connected on an inbound play to leave just three seconds left. Seward had to go the length of the court, but Johnson's half-court heave sailed wide right.
Barton was led by Keandre Bowles with 21 points and one rebound. The Cougars had three others in double digits with Martin Vogts with 15 points, Jaheim Holden with 14 points and Desean Munson with 12 points.
Seward's Johnson led the Saints in points with 16 and four rebounds. Saints had four others in double digits with Rostyslav Novitskyi 15 points, Cardaci 14 points, Ramiro Santiago with 13 points and Surakata Jawara with 12 points.
Saints will be back in the Greenhouse on Wednesday to face off against Northwest Kansas Technical College at 8 PM.
Game audio, first half of game:
https://soundcloud.com/user-538336933/sets/2020-0125-first-half-sc-at-barton
Game audio, second half of game:
https://soundcloud.com/user-538336933/sets/2020-0125-second-half-sc-at-barton