Saints Drop Sixth Straight
Brock Kappelmann - April 20, 2017 6:45 am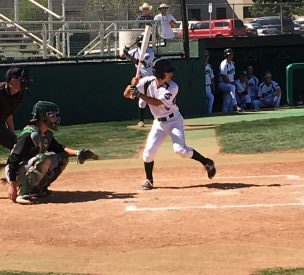 The Seward County Saints dropped their sixth game in seven days on Wednesday, falling 12-5 to Clarendon in midweek action to fall to 16-29 on the year.
After a 31 run shootout one week earlier, the Saints and Bulldogs were scoreless after 2 ½ innings Wednesday afternoon at Brent Gould Field.
Seward jumped on the board first in the bottom half of the 3rd as Brian Tims legged out an RBI single to put the Saints up 1-0 after three.
Back to back Clarendon doubles to start the 4th knotted things up at one, but the Saints answered right back, getting a two out single from Cristian Erives to put them back on top 2-1.
A two run bomb for the Bulldogs in the top half of the 5th gave Clarendon their first lead of the game and the 'Dogs tacked on another in the 6th to make it a 4-2 game.
Jacob Nielsen doubled home a run for Seward in the bottom of the 6th to get the Saints back to within one and a zero by the Saints pitching staff sent the game to stretch time in a close one with Clarendon up 4-3.
Seward couldn't score in the 7th and Clarendon made them pay in the 8th as six straight Bulldog hitters reached with two outs in the inning, pushing across five runs to stretch the Clarendon lead to 9-3.
An RBI single from Errett Edwards in the bottom of the 8th made it a 9-4 game, but the Bulldogs were right back at it in the 9th, packing on three more runs to take their largest lead of the game at 12-4.
The Saints scored a lone tally in their final at bats, but it wasn't nearly enough for a comeback as the Bulldogs finished off a 12-5 win to clinch the season series between the two.
The teams combined for 30 hits, 17 for Clarendon and 13 for the Saints. 11 different Saints had hits in the loss including Nielsen and Addison Kaasch who both had a pair of knocks in the losing effort. Five Seward arms threw in the loss, starter Jordan Pepper was the only hurler to not allow a run as he tossed three scoreless to begin the contest. Nick Johnston suffered the loss, going two innings, allowing four hits and three earned runs to fall to 0-1 on the year.
Seward drops their sixth straight to fall to 16-29 on the year while Clarendon improves to 23-19 overall.
The Saints will remain at the friendly confines of Brent Gould Field this weekend as they take on the Dodge City Conquistadors in a four game set with doubleheaders at 1:00 both Saturday and Sunday.
SEWARD COUNTY/CLARENDON BOX SCORE<http://www.sewardsaints.com/sports/bsb/2016-17/boxscores/20170419_g9fb.xml>