Saints Dominate Dodge City
Brock Kappelmann - February 25, 2018 10:11 am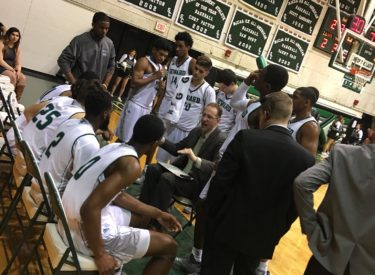 Sophomores Ke'Sean Davis and Terrell Alfred were honored before the game and then the Saints made sure they had a triumphant sophomore night.  Seward beat Dodge City 84-52 Saturday night in the Green House.
The Saints bolted out to a 24-7 lead and went into the halftime locker room ahead 39-24.  Seward shot 52 percent from the field and their defense is back.  They allowed the Conqs to shoot only 28 percent.  Since allowing 86 against Neosho February 14, the Saints have allowed 60, 56, and 52.
Ke'Sean Davis had 22 points and eight rebounds on 9-13 shooting.  Terrell Alfred had 13 points.  Isiah Small had 13 points and four assists.  Jamel Horton had seven rebounds.  Devin Bethely had four assists.
The Saints are 17-12 and 13-12 in the Jayhawk.  Dodge City loses for a sixth straight time and falls to 8-21 and 6-19 in the KJCCC.  The win breaks a string of three straight losing seasons in the Jayhawk for Seward.  They play Monday night at Garden City and a win would give them their first winning season in the Jayhawk since 2014.  The game is at 8 and airs on 107.5 and kscbnews.net.  The Saints are guaranteed a home game Thursday night at 7 in the Green House.