Saints Defang Rattlers in Home Opener
Brock Kappelmann - August 23, 2023 7:11 am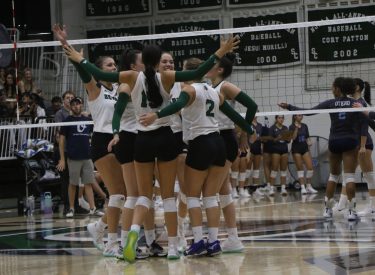 Jay Daubenberger
Liberal, KAN. – #10 Seward County Volleyball made their home debut in the Green House for the 2023 season this Tuesday afternoon against Otero College where they swept the Rattlers 3-0 to continue their undefeated streak over OJC.
Seward County started the first set of the match on fire, stretching it to an early lead over Otero until the Rattlers found some rhythm to bounce back and tie up the game 17-17. The Lady Saints did not back down despite Otero's rally as Seward County went on an 8-2 run to take set one 25-19 over the Rattlers to go up 1-0.
The second was all Seward County and showed why they are a top ten team in the country. The Lady Saints forced an early timeout from OJC after an 8-4 start to the set was followed by another 8-4 run that was capped off by a block at the net from Clara Duarte who gave SCCC a 16-8 lead. A big kill down the line from Dora Filipovic gave Seward County a 20-10 lead and that was all she wrote for the Rattlers as the Lady Saints took set two 25-14 to go up 2-0 in the match.
The foot never left the gas as Seward County kept their momentum going in set three where Lajla Rasljanin and Keala Wilson combined at the net for a block to put SCCC up 9-5 to increase their lead to four. Otero made a jump to cut the lead to two until a powerhouse kill from the outside by Filipovic gave the Lady Saints a 13-10 lead in the third and their lead was never at risk from there. Duarte took over set three at the end for Seward County, striking a kill down the middle to give SCCC match point before striking the final blow with another big kill to win the set 25-18 to complete the sweep 3-0 over the Rattlers.
The Lady Saints finished the 3-0 sweep hitting a .217 team hit percentage, led by Filipovic who had 8 kills on .412 and was followed by Duarte with 7 kills on 12 swings with a .417 hit percentage while also blocking 7 attacks at the net. Rafaela DaSilva led the team with 17 of the team's 21 assists and Winiffer Rodriguez recorded 11 digs through all three sets.
Seward County will head back on the road down south towards Texas where they will take part in the Wrangler Ranger Roundup on August 25-26. The Lady Saints will compete against Dallas College Eastfield (12:00 PM) and Ranger College (4:00 PM) on Friday and will take on Victoria College (11:00 AM) to start Saturday and wraps up the roundup against Cisco College (3:00 PM).