Saints Cruise to 51 Points Victory
Brock Kappelmann - November 9, 2017 6:03 am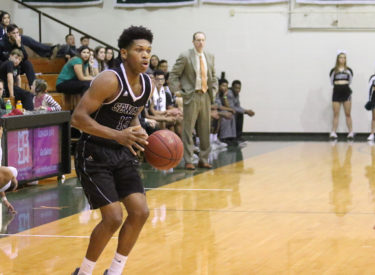 LIBERAL, Kan. – The Seward County Saints basketball team coasted to a victory Wednesday night, defeating Lamar Community College's Junior Varsity team 90-39. The Saints never trailed in the game, and led by as many as 54.
The Saints were never tested in this contest, as they led for all 40 minutes. Seward couldn't miss through the first ten minutes, going up 28-8 with 9:21 left in the first half. They finished by going on a 21-9 run to hold a 49-17 lead at halftime. This was the second straight game that Saints held their opponent to under twenty points in a half, holding Sunrise Christian to just one point a night ago.
The Saints shot 51.2% from the field in the first half on 21 of 41 shooting and 33.3% from behind the arc. While they made over half their shots, the defense kept the Lopes to just 24% from the floor on 6 of 25 shooting. Seward also came away with 11 steals in the first half.
Seward couldn't miss in the second half, scoring the nets for 69% shooting. They connected on 20 of their 29 attempts. The Saints let the gas off the pedal some, allowing the Lopes to score 22 in the second half, it was all for naught as Seward steamrolled their way to a 51-point victory.
The Saints dominated the boards, out-rebounding the Lopes 47 to 18. Seward finished the night with 15 offensive rebounds and 32 defensive rebounds, led by Isiah Small's six total rebounds.
Four Saints earned doubled figures – Ke'Sean Davis (14), Isiah Small (12), Terrell Alfred (10), and Jordan Mitchell (10) – and 14 of the 15 Seward players notched at least one point in the game. The Saints added twelve more steals to their first half number, for a total of 23 on the night.
With the win, Seward improves to 4-0 on the year and finished the non-conference schedule with a perfect record. The Saints will have their hands full on Saturday when they host No. 1 Hutchinson at 8 p.m. in the Greenhouse. Free tickets are available courtesy of our sponsor Billy's Blue Duck BBQ at their restaurant.
[cid:image002.[email protected]E28ACDF0]
Ian Applegate