Saints Continues to Specialize in Splits
KSCB News - April 4, 2015 7:29 am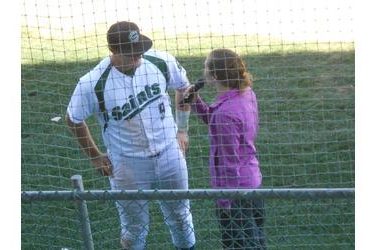 For the fourth consecutive conference series, Seward splits the double header. After a 5-1 win the Saints lost the second game 7-5 on a breezy chilly Good Friday at Brent Gould Field.
In game one, JB Olson improved to 6-3 with a complete game win. He had six strikeouts and two walks. Seward scored two in the first thanks to a Dillon Drury single and Brent Williams scored on a wild pitch. Justin Graff-Rowe singled home two in the second to make it 4-1. Nic Ricigliano doubled to lead off the fourth and scored thanks to a Colby error.
In game two, Seward lost the game more than Colby won it. Colby committed five errors and struck out 12 times but still beat the Saints 7-5. The Saints loaded the bases with no outs twice in the first but only scored once and that was on a Colby error. Seward placed lead off hitters on base the next two innings but didn't score. Meanwhile starter Brent Bezion pitched 4.6 innings allowing five runs. Liberal did take a 4-3 lead scorng three in the fourth which were unearned due to a pair of Trojan errors. The Trojans scored two more in the fifth to chase Bezio and lead 5-4. They added a sixth inning run to lead 6-4. Seward cut the lead to 6-5 with a Williams single to right in the eighth. Colby scored an insurance run in the ninth.
Seward is 18-18 overall and 9-9 in the Jayhawk West and CCC is 14-19 and 8-14. The same two teams meet Saturday at 1 with 12:45 Saints Dugout Show on 1270 and kscbnews.net.