Saints Come Up Big in Clutch Against Fort Scott
KSCB News - May 11, 2013 12:52 pm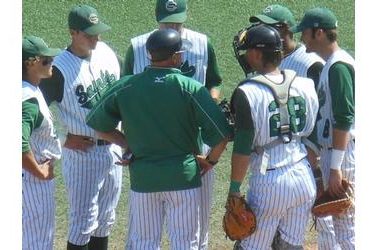 The Seward County Saints showed some pride Saturday. After trailing 5-1 going to the bottom of the fourth, Seward rallied for an 8-5 win over Fort Scott to avoid elimination at the Region 6 Tournament at Lawrence-Dumont Stadium in Wichita. Seward's last six runs came with two outs.
Seward scored in the first when Deven Nelson drove home Jacob Fuller. The Greyhounds (40-17) scored four runs on one hit, one error, and two Hayden Howard walks. Fort Scott added a fourth inning run to lead 5-1.
Seward's comeback began quietly in the fourth when Mason Marshall doubled to right center with one out. He would later scored on an Alex Scanlan groundout to make it 5-2.
The Marshall plan carried over into the fifth when he delivered a two out two RBI single to score Jacob Fuller and Bryson Allen to make it 5-4. Alex Scanlan's hit tied the score.
Deven Nelson's clutch two out hit with the bases loaded in the eighth scored Johnny Griffith. Troy Owen followed that up with a single to left to scored Frankie Bolanos and Mason Marshall walked with the bases loaded.
Hayden Howard pitched six and two thirds allowing four earned runs in a no decision. Adam Guay (3-1) continued his late season streak pitching two and one third innings for the win. Adam struck out three and didn't walk anyone.
Jacob Fuller and Bryson Allen had three hits a piece while Mason Marshall was 2-3 with three RBI's. Deven Nelson drove home two runs.
Seward is 32-28 and faces the loser of Saturday night's Coffeyville-Cowley game at 1 p.m. Sunday at Lawrence-Dumont Stadium. The game will air on Talkradio 1270 and kscbnews.net.