Saints Coach Sour on Seward Effort
KSCB News - February 7, 2013 7:24 am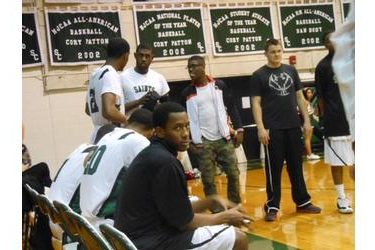 Seward head coach Bryan Zollinger didn't like his teams' approach to practice this week, the shootaround Wednesday, or warmups before the game. That carried right over into the game according to the Seward sixth year head coach as the Saints beat Colby 67-60 in what coach Z deemed a lackluster effort.
The Saints built a 36-25 halftime lead only to see the Trojans (11-13, 2-8) rip off an 11-0 run to begin the second half. Colby would never lead however as a couple of sophomores helped make sure the Saints would win. Kaheem Ransom scored 19 with six rebounds and Edson Avila added 14 points and six rebounds. Seward shot 42 percent from the field but Colby shot 42 percent from the field as well.
The Saints have won 10 of the past 11 against Colby and nine in a row in the Green House against Colby.
The Saints are 17-7 overall and 8-2 in the Jayhawk West. They remain two games in front of first place #1 Hutchinson who won at Garden City Wednesday.
The Saints play at Pratt Friday evening at 6 p.m. on B107.5 and kscbnews.net. Seward will be featured during the Green Line at Billy's Thursday night at 6 on Talkradio 1270 and kscbnews.net.
Wed. Feb. 6
Kansas City KS def Johnson County 76-50**
Labette def Highland 83-76*
Neosho County def Fort Scott 81-67*
D1#1 Hutchinson def Garden City 62-57*
D1RV Seward County def Colby 67-60*
Independence def Allen 57-47*
D1#3 Coffeyville def Cowley 68-64*
Cloud County def Pratt 57-55*
D1#25 Barton def Dodge City 73-53*