Saints Clobber Colby
KSCB News - February 5, 2015 7:26 am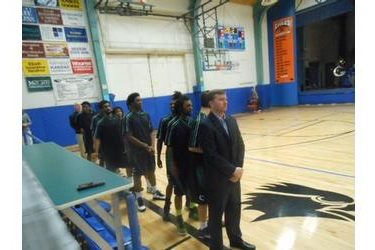 For the first time in the conference season, the Seward County Saints have won two in a row. The Saints dominated Colby in the Colby Community Building Wednesday night 85-62. It's Seward's first road win to improve to 1-7 in road games. The Saints get back to .500 in the KJCCC West at 5-5.
Seward had 22 assists and shot 57 percent and 66 percent in the second half in one of their best offensive games of the season as the Saints carved up Colby's zone. Seward led 37-25 at halftime in route to the win. It's Seward's eighth win in the last nine tries at Colby and 10th straight win over the Trojans.
Kevin Sims scored 25 points with a career high 10 rebounds after a 26 point game Saturday against Barton. Secean Johnson scored 12 while Darius Polley added 11 and Evan Allen and Tyreke Sharp added 10 a piece.
Seward is 12-11 and 5-5 in the Jayhawk West while Colby is 12-12 and 3-7 in the conference. The Saints will be featured during the Green Line Thursday night at 6 at Ayr Lanes at Billy's on 1270 and kscbnews.net. The Saints host the Pratt Beavers Saturday night at 8 on B107.5 and kscbnews.net. Holiday Inn Express is the buyout sponsor. Pratt is 5-4 and a half game ahead of the 5-5 Saints in the standings.