Saints Clinch Playoff Spot
Brock Kappelmann - October 22, 2023 9:27 am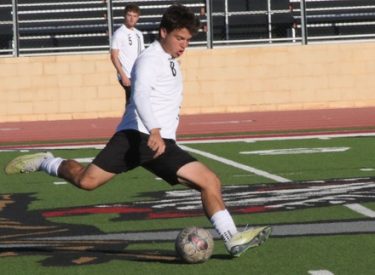 Jay Daubenberger
Liberal, Kansas – After learning earlier today that they have officially clinched the program's first playoff spot, the Seward County Saints kicked off on Redskin Field for the last time in the 2023 season on sophomore night where they faced off against the Coffeyville Red Ravens where both teams gained a result after the game ended in a 1-1 draw.
After taking down Coffeyville on the road in mid-September, the Seward County men's soccer made their intentions known early in the game that they intended to repeat their success over the Red Ravens. Less than ten minutes into the first half the Saints were able to find a path to the goal when Josh Rimmer was able to connect with Francisco Nava-Gomez at the 36:47 mark to take a 1-0 lead to put the pressure on Coffeyville. Seward County's lead did not last long as the Red Ravens found a way to score halfway through the first 45:00 minutes of action to knot the score up at 1-1 heading into halftime. From their it was a constant battle and exchange of possessions between the two teams in the second half as neither was able to take an advantage over the other, eventually ending the Saints final home game of the 2023 season in a 1-1 draw.
Seward County now moves to 8-6-3 on their inaugural 2023 season with a conference record of 3-6-2 which places them in the fifth spot of the KJCCC standings. They will now prepare for their final game of the regular season when they head to Barton on Monday for a 1:00 PM kickoff before the Region.VI tournament begins the following week.