Saints Clamp Down on Cloud
Brock Kappelmann - February 2, 2023 7:13 am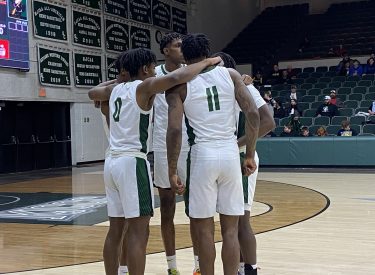 Seward played some of their best defense of the season Wednesday night in the Green House.  Seward held the visiting Cloud Thunderbirds to 25 percent shooting in a 69-60 win.  The Saints dominated the glass out rebounding the T-Birds 66-42.
The Saints jumped out to a 13-10 lead before jumping out to advantages of 23-12 and 25-14.  Seward led 27-20 at halftime.  Seward led 46-28 and looked poised to run away with the game before Cloud went on a 13-2 run to make it 48-41 SCCC.  The Saints got the lead back to double digits at 55-43 with 7:42 to play.
The Saints shot 38 percent from the field and 8-12 from three and 19-29 from the foul line at 66 percent.  Cloud shot 25 percent and 5-24 from three at 21 percent and shot 60 percent from the foul line at 15-25.  Seward won despite 23 turnovers.
Wilson Dubinsky enjoyed another great shooting night at home.  Dubinsky scored 23 and was 6-7 from three point range and 6-9 from the field.  Mario Whitley had 12 points and 13 rebounds.  Blessin Kimble had 10 points and eight rebounds.
Seward is 12-11 overall and 8-9 in the KJCCC.  Cloud is 12-10 and 8-8 in the Jayhawk Conference.  Seward hosts Independence Saturday at 4pm in the Green House.  Liberal Kenworth is the buyout sponsor.  The game airs on B107.5.