Saints Claim Home Victory Over Garden City
Brock Kappelmann - January 14, 2020 6:04 am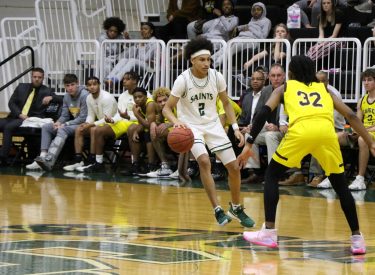 Kenny Hernandez
LIBERAL, Kan. – The Seward County Community College men's basketball team posted back-to-back victories for the first time since starting the season with a three-game winning streak after a 78-73 triumph over Garden City Community College on Monday at the Greenhouse. The Saints improved to 10-7 overall and 3-5 in the Jayhawk West.
The first-half the Saints would trail the Broncbuster by 11 points, but Seward County responded to take the lead 33-31 before the break. At the half the Saints trailed 38-37 and shot just 35% from the field. Shot 15-17 from the free-throw line to keep Seward within one point after the first half.
Early in the second half the Saints went on an 8-0 to gain the lead and get ahead of the Broncbuster by 11. This turned out to be the largest lead of the game for either team, with 15:57 left in the contest. Seward shot 43% from the field in the second half and continued to attack the basket. Drawing fouls on Garden City would turn out to help the Saints claim the victory.
Seward took the lead at 74-73 with 1:08 left in the game when Surkarta Jawara hit two free throws. After two defensive stops, Takyi sealed the victory with four more free throws to give the Saints their margin of victory.
Rostyslav Novitskyi had a career-high 20 points and grabbed six rebounds, Greg Johnson added 14 points and Stephen Takyi netted 10 points for the Saints, who were 39 percent from the field on 20-of-51 shooting.
Tahlik Chavez led the way for Garden City with 20 points, eight rebounds, and two steals. Michael Frazier also had double digits with 16 points and 7 rebounds.
Saints are back in action Wednesday in the Greenhouse to take on Pratt Community College at 8 PM.