Saints Capture Jayhawk West Title
Brock Kappelmann - February 21, 2019 7:11 am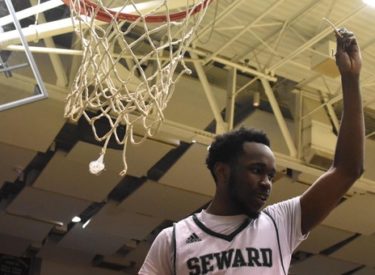 Phillip Lee
LIBERAL, Kan. – The 13th-ranked Seward County Community College men's basketball team claimed the Jayhawk West title with a 79-53 victory over the Northwest Tech Mavericks on Wednesday.
It is Seward's first conference championship since the 2013-14 season. The Saints, who moved up to No. 13 in the National Junior College Athletic Association poll, improved to 17-3 in the Jayhawk West and 24-5 overall. The 24 victories are most since 2012-13 when SCCC won 25 games.
Marco Morency led the Saints with 24 points and 14 rebounds for his second double-double of the season. Isiah Small added 17 points and Devin Bethely chipped with 13 points for Seward, which extended its winning streak to seven games. The Saints hit 50.8 percent from the field on 31-of-61 shooting while holding the Mavericks to just 31.8 percent shooting (21-of-66).
Seward, which was looking to avenge a loss to Northwest Tech in January, jumped out to an early lead and never looked back. Small scored the first six points of the game as the Saints went on a 12-0 run. The Mavericks never got closer than eight points the rest of the game. Seward led 39-25 at the half.
Miles Gibson had 20 points and 12 rebounds, Chris Freeman scored 12 and Ebon Jay netted for Northwest Tech, which fell to 5-15 in the Jayhawk West and 13-16 overall.
Seward hosts Hutchinson for Sophomore Night at 6 p.m. on Saturday at the Greenhouse.