Saints Can't Keep Up with Busters
Brock Kappelmann - February 6, 2022 9:04 am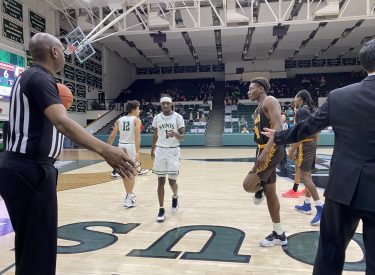 Garden City is a high flying team right now.  They are second in the KJCCC in scoring and have climbed the standings with a strong second semester.  The Seward County Saints are headed the other direction.  While SCCC has shown the ability to beat ranked teams at home, they have proven they don't win high scoring games against the high powered teams of the conference.  #18 Garden City ran past Sewrad 81-65 Saturday night in the Green House.
This was tight first half and Seward led by three a one point.  The Broncbusters went into  the locker room at halftime with their biggest lead of the night at 36-29.  Seward trimmed that lead to 46-44 early in the second half after a barrage of 3's by Will Dubinsky.  But the Saints never drew closer.  The Busters went on a 22-8 run to lead 68-52.  Their 70-52 lead was their biggest.
Seward's defense wasn't good enough as GCCC scores 81 and shot 50 percent.  Seward had trouble with the turnovers at 23.  Seward shot 42 percent and made 39 percent of their 3's.  Garden City out scored Seward 43-36 in the second half.
Seward loses their fourth straight as Garden City sweeps the season series.  Seward is 9-16 overall and 6-13 in the Jayhawk.  Garden City is 18-6 and 12-6 in the KJCCC.  The Busters have won 10 of their last 11.
Seward plays at Cowley Wednesday night at 7:30 on 107.5 and the KSCB and The Legend App.