Saints Can't Come Through in Colby
KSCB News - February 16, 2016 7:12 am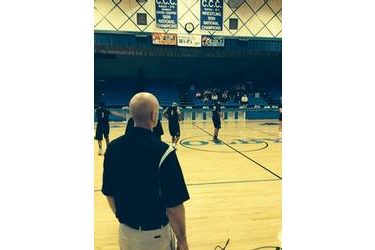 Seward had their chances. Not only did the Saints lead by as many as eight in the second half, but they squandered opportunities to take the final shot in regulation and overtime of an 84-82 loss at the Colby Community Building Monday night.
At the end of regulation, Seward had the ball for a final shot but turned it over and had the ball with the shot clock off at the end of overtime but took an early three pointer. Colby went down the floor and guard Brian Starr missed a runner in the lane off the backboard but 7'2" Ahmed Ismail tipped it in with .5 seconds left.
The game was again plagued by whistles. Seward was 16-25 at the foul line and the Trojans were 23-42. Colby committted 34 turnovers and still won. Colby out rebounded Seward 55-38.
Seward led 36-33 at halftime and led 58-50 with 7:20 to play. The Saints led 63-57 before a 10-0 run gave the Trojans a 67-63 lead. Jones and Stevenson hit clutch three's late in regulation to send it to overtime. Seward led 78-73 in overtime before the lead slipped. Two Seward starters Beauregard and Mathieu fouled out.
Niem Stevenson scored 19 in the sloss while Charles Beauregard scored 16 and Delano Jones scored 12.