Saints Can't Catch Kings
KSCB News - December 3, 2011 7:21 am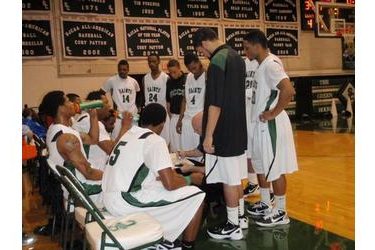 The Colorado Kings shot 73 percent from the field and shocked the Seward County Saints 102-90 Friday night in the Green House. The Kings, a group of former pro and college players were 19-24 in the second half for 79 percent. The Saints shot 49 percent in the loss. The Kings led 44-42 at halftime and out-scored the Saints 58-48 in the second half. Darius Pope scored 37 points for the Kings.
The Saints led nearly every other statistical category other than shooting. Seward had 23 turnovers while the Kings had 24, Seward had 18 steals while the Kings had seven, Seward out-rebounded the Kings 30-26, and the Saints dished up 16 assists while Colorado had 10.
Kaheem Ransom led the Saints with 17 while Deverell Biggs added 15. Irvin Hollinger fought off first half foul trouble for 12 and Daveon Boardingham had 10 points and seven rebounds.
The Garden City Broncbusters beat the McCook Indians 84-79 in the other game of the Conestoga Classic. The Busters (11-2) play the Kings (8-2) at 6 p.m. and the Saints (7-2) host McCook (6-3) Saturday night at 8 p.m. on Talkradio 1270 and kscbnews.net .