Saints Bury Barton Late
KSCB News - February 20, 2014 7:24 am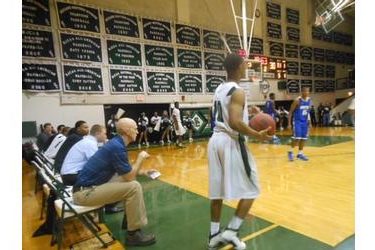 The Seward County Saints have clinched at least a share of their fourth straight Jayhawk West title. Wednesday the Saints beat Barton 67-58 in the Green House while second place Hutchinson lost at Cloud. The Saints have won 16 of their past 18 and are 10-2 in the Jayhawk West while avenging a January 22 loss to the Cougars.
The Cougars led 30-27 at halftime and led during the early portions of the second half. Seward took their biggest lead at 57-53 with 3:07 to go. The Saints won the game despite shooting under 35 percent from the field. The Saints were just 2-17 from three point range but Barton was 0-13 from behind the three point line. Seward collected 19 offensive rebounds to offset their shooting woes.
Quentin Purtue celebrated his 24th birthday with a 19 point game. Niem Stevenson scored 17 points and grabbed eight rebounds and Secean Johnson had 13.
Seward is 20-8 and 10-2 in the Jayhawk West while Barton is 19-9 and 7-5 in the Jayhawk West. The Saints can clinch their fourth straight outright title with a win in one of their remaining two games at Cloud and home against Pratt or a Hutch loss.
Butler def Labette 75-70*
Cowley def Tabor JV 60-58*
Independence def Coffeyville 63-55*
Dodge City def Colby 89-79*
Seward County def Barton 67-58*
Garden City def Pratt 62-61*
Cloud County def #16 Hutchinson 94-85*
Allen def Neosho County 91-84 OT*