Saints Bully Barton on the Boards for Win
Brock Kappelmann - January 5, 2023 7:14 am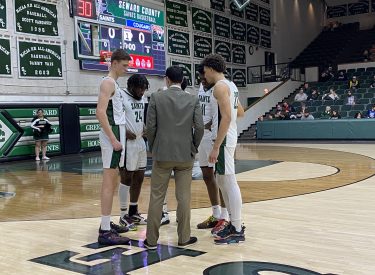 The Seward County Saints gained their third straight conference win with a 71-64 victory over the Barton Cougars Wednesday night in the Green House.  Seward out-rebounded the Cougars 57-37 and 38-11 in the first half.
The Saints were dominant in the first half and led 40-24 before leading 40-28 at the half.  The Saints led throughout the second half before the Cougars rallied.  The Saints led 67-56 with 4:30 to play.  Barton used an 8-0 run to make it 67-64.  After a missed Seward three, Mario Whitley dove to tap the ball to a teammate.  Barton fouled Ty Foster who knocked down two free throws to held ice the game for the Saints.
Seward shot 50 percent in the first half and 33 percent in the second half for a 42 shooting game.  SCCC was 3-17 from three and 18-27 for 67 percent at the foul line.  Barton shot 32 percent and was 3-20 from three and 15-27 for 56 percent at the foul line.  Seward won despite 23 turnovers.
Mario Whitley had 20 points and 13 rebounds.
Seward wins their fourth straight at home against Barton.  Seward is 9-7 overall and 5-5 in the KJCCC.  Barton is 9-6 overall and 4-5 in the Jayhawk.  Seward plays at Hutchinson Saturday night at 7:30 on 107.5.