Saints Breeze by Tabor in Liberal
KSCB News - March 6, 2016 9:08 am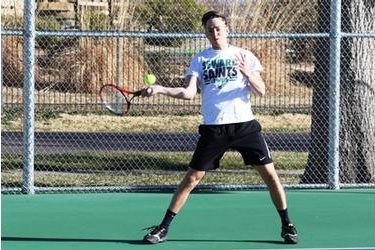 The 10th ranked Seward County Saints continued their early season roll on Saturday at Blue Bonnet Park in Liberal, blowing past visiting Tabor 9-0 in their home opener to improve to 7-0 on the year.
On a picture perfect Saturday morning, the Saints and Blue Jays began things with doubles action. Seward sent Przemek Zielinski and Alex Mosehle to the court in #1 doubles and the two played a very competitive match early on against the Jays top pair, but in the end, the Saints were too much in an 8-4 win. At #2 it was Carlos Anez and Ondrej Nice teaming up for Seward. The Saints duo was unstoppable, putting an 8-0 blanking on Tabor to chalk up another point for Seward. In #3 play it was Ngoni Makambwa and Felipe Casares doing battle for the guys in green. It certainly didn't look like the first time the two had taken the court together in 2016 as they brought home an easy 8-2 win for Seward to give the Saints a clean sweep in doubles action.
In singles action at the top spot, Zielinski took on Illia Filanchuk in a spirited battle on court one with Zielinski getting stronger as the match went along to come away with a 6-3, 6-4 win. That was the only moderately close match in the singles portion of the dual as Makambwa and Casares won 6-0, 6-0 matches at #3 and #4 to seal the win while Zach Suico, playing in his first regular season match as a Saint won 6-1, 6-1 at #6 to finish off the 9-0 sweep for the Saints.
Seward improves to 7-0 on the year with the win and run their individual match record to an impressive 56-7.
The Saints will continue a busy Spring schedule on Friday when they travel to Central Kansas to take on Bethel and Bethany in duals before returning home to take on Colorado State University-Pueblo next Sunday at Blue Bonnet Park.
#10 SEWARD COUNTY/TABOR MATCH RESULTS<http://www.sewardsaints.com/sports/mten/2015-16/files/SewardTabor3-5M.pdf>
March 5, 2016
Not in his wildest dreams could first year Seward County Head Coach Greg Owen have imagined his Lady Saints squad getting off to the 2016 start that they have thus far as with a 9-0 drubbing of Tabor on Saturday at Blue Bonnet Park in Liberal, the Lady Saints are now 10-0, marking the longest win streak in school history.
Playing at home for the first time in 2016, the Lady Saints couldn't have asked for a more picturesque morning to take on the Tabor Blue Jays Saturday. Doubles play got the morning kicked off and the top two spots were highly contested. Madison Hoelting and Tadi Mrewa continued their dominance for Seward at the #3 spot, winning an 8-2 decision, but the #1 and #2 points were up for grabs until late. At #1 it was the Rakotondrazafy duo for Seward and the 'sisters' fought off some early struggles to come away with an 8-4 win for the Lady Saints. In #2 is was even more of a dog fight as the Lady Saints pair of Thalita Rodrigues and Nthabi Mogopodi found themselves in an early hole before digging out for an 8-5 come from behind win to give Seward the doubles sweep.
Rodrigues had much less trouble in singles play, holding down the top spot in the Lady Saints order with a 6-0, 6-2 win for another Seward point. At #2 Mogopodi earned a 6-3, 6-0 win and Yennifer Delgado sealed the match for Seward with matching 6-1 wins at #3 to make it 5-0 in favor of the Lady Saints. Crizta Goslin played a hard fought 6-4, 6-3 match at #6 and the Lady Saints had to come from behind at both #4 and #5 where Mrewa and Hoelting won third set tiebreaks to finish off the Seward County sweep of the match.
The Lady Saints win a school record 10th straight as they open the 2016 season 10-0. Overall, Seward has dropped just 11 points in their first 10 matches of the year.
Next up for the Lady Saints is a doubleheader Friday in Central Kansas where they will take on Bethel and Bethany in a pair of duals. Seward will then return home on Sunday to take on Colorado State-Pueblo in an 11:00 match at Blue Bonnet Park in Liberal.
#10 SEWARD COUNTY/TABOR MATCH RESULTS<http://www.sewardsaints.com/sports/wten/2015-16/files/SewardTabor3-5W.pdf>