Saints Break Out the Bats in Game Two of Colby Split
Brock Kappelmann - March 9, 2019 7:39 am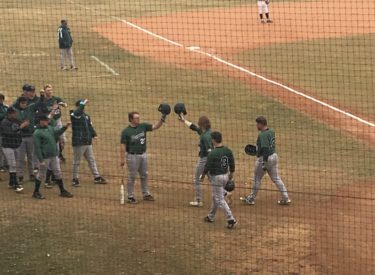 The Seward County Saints and Colby Trojans split a double header Friday afternoon at Brent Gould Field.  This was the opening Jayhawk West double header of the season.  The Trojans won the first game and the Saints took game two 12-6.  Colby was the home team as the games were played in Liberal because Colby's field is still too wet due to snow.
Colby's Logan Hoffman held the Saints in check by tossing a complete game two hit shut out.  Benny Ayala had Seward's only two hits.  Colby scored four in the first, one in the third, one in the fifth, and one in the sixth.  Tanner King pitched a complete game in the loss.
In game two, the Trojans scored first wit ha run in the bottom of the second.  Cayde Ward ripped a two RBI double to left to give the Saints a 2-1 lead.   Owen Martin lined a grand slam home run over the wall in left center for a 6-1 lead.  Cruz Shope homred to lead off the fourth.  AJ Folds added an RBI single for an 8-1 lead.  Colby scored three in the fourth.  The Saints scored their final three runs in the fifth.  KP Werner drove home a run with a single.  Another run scored on a throwing error by Colby's catcher.  Braxton Allen hit a sacrifice fly.  Cayde Ward's sac fly gave Seward their 12th run in the eighth.  Colby actually out hit the Saints 12-9.  Colby pitching walked 10.  Jake Lobardelli pitched three innings and Ryan Thomas went four innings.  Cory Didier tossed two scoreless innings to close it out.
The Saints are 8-8 overall and 1-1 in the Jayhawk West while the Trojans are 9-4 and 1-1.  The same two teams play a double header at 1 Saturday at Brent Gould Field.  Game one airs on kscbnews.net and game two will be on 1270 and kscbnews.net.
Game 1 audio:
Game 2 audio: