Saints Break in the Green House with Win Over Trinidad State
Brock Kappelmann - November 10, 2021 7:19 am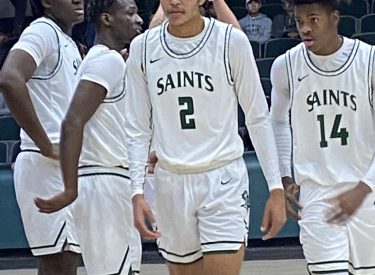 The Seward County Saints won their home opener Tuesday night in the Green House.  The Saints took down Trinidad State 85-72 in coach Rylee Hernandez's first game as head coach of the Saints at home.
Seward came out ready and took leads of 14-5 and 21-12.  The Trinidad State Trojans, playing in the Green House for the first time since November  16 of 2007, countered and claimed a 35-25 lead.  The Saints raced into the locker room after Erik Pratt beat the buzzer with a three pointer to give the "Guys in Green" a 41-38 lead at the half.
The Saints held the Trojans in check in the second half as Trinidad shot 39 percent and went 1-11 from three point range.   The Saints led by as many as 17 (84-67 ) on the way to the win.
Seward sizzled from beyond the arc going 17-31. SCCC won despite being out rebounded 46-26.  Seward was 8-14 from the foul line but Trinidad was 13-24 and did not take advantage.   Erik Pratt had 19.  Jaylin Henderson scored 15.  Wilson Dubinsky had a 14 point game.  Taye Donald added 12.
Seward is 2-1 and Trinidad is 1-3.  Seward hosts Western Nebraska Saturday night at 6 in the Green House.  Pepsi is the game sponsor.  Saints Shoot-around at 5:45 on B107.5 and the KSCB and the Legend App.