Saints Bounce Back in Rout of Cougars
Brock Kappelmann - January 27, 2019 9:58 am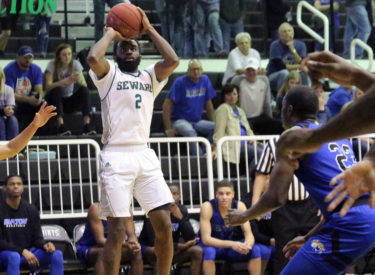 LIBERAL, Kan. – Five Saints reached double figures as the No. 13 Seward County men's basketball team stomped the Barton Cougars 87-70 to move to 17-4 overall and 10-2 in the Jayhawk West. The win gave Seward a two-game cushion over the second-place Cougars.
The game started out contested, as the Cougars jumped out to an early 11-9 lead in the first five minutes. Seward turned the tide with a 6-0 run, which including a three from Mohamed Selmi to take a 15-11 lead, one they would not give up the rest of the game. The lead stretched to five points with a Devin Bethely pull-up jumper just before the media timeout as the Saints led 22-17.
The lead stayed at five points until the five-minute mark. With the Saints leading 30-25, the Cougars would only score five more points in the remainder of the quarter as the Saints extended their lead to nine points by halftime, leading 39-30.
The one-point per minute trend continued well into the second half for the Cougars, as the top ranked Barton offense could find no wiggle room within the suffocating top ranked Seward defense. With the Cougars demoralized, the Saints lead ballooned to 26 points at the media timeout, with Seward leading 66-40.
The lead eventually reached 30 points with a Hegel Augustin three-point with 8:15 left in the game, the largest lead Seward would have. Still up thirty points with four-minutes to play, the Saints focused getting on experience. Barton would end the game on a 14-5 run, but it was far too little as the Saints took down the Cougars 87-70.
Seward got back to their high-efficient offense, shooting 56.9 percent (29-for-51) from the field and 52.6 percent (10-for-19) from deep. The Cougars were held to 38.8 percent (26-for-67) from the floor and just 22.7 percent (5-for-22) from behind the arc. Barton did not hit their first three-pointer until the 5:08 mark in the second half.
Reggie Miller led the Saints with 15 points, six rebounds and five assists. Montrevion Flowers (14 pts), Isiah Small (13 pts), Mohamed Selmi (12 pts) and Devin Bethely (11 pts) each reach double-figures as well.
The Saints will have their first Monday off in three weeks, but will be back in action on Wednesday (Jan. 30) when they travel to Goodland to take on the Mavericks of Northwest Tech. The game will start at 7:30 p.m. MST and can be heard on 107.5 FM with Brock Kappelmann on the call.