Saints Blow Past Pioneers
Brock Kappelmann - November 12, 2018 6:00 am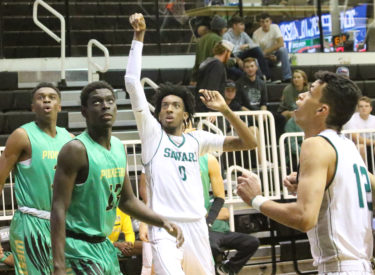 LIBERAL, Kan. – The Seward County men's basketball team held the Western Oklahoma State Pioneers to only 54 points one day after scoring 100 against Dodge City. The Saints defeated Western Oklahoma 79-54 to move to 3-1 on the season.
Isiah Small got the Saints rolling, scoring the first five points for Seward on their first two possessions. However, it would be five more minutes before the Saints would get back on the scoreboard, while the Pioneers went on a 7-0 run. Reggie Miller ended the scoreless draught with a three-point play, the old fashion way to trim the deficit on one. Seward would take the lead just before the media timeout with another Miller basket.
Coming out of the media timeout, the Pioneers went on a 6-0 run to take a five-point lead over the Saint. From that point on, the Saints controlled the game, quickly retaking the lead with an 8-0 run, before pushing their advantage to double-digits right before halftime with a Ramiro Santiago free throw to make it 33-23.
Seward continued to attack to start the second half, going on a 10-2 run, capped off with a Mohamed Selmi slam. A few possessions later, Small pushed the lead to over twenty with a 5-0 run of his own, making the score 50-27. The lead hovered around twenty for the remainder of the game, until the Saints put it away, winning 79-54.
Seward continued their stretch of excellent defense, forcing the Pioneers into 24 turnovers. Western shot 42.6 percent from the field, but the Saints managed to hold them to just 18.2 percent from deep. Seward shot 44.6 percent (33-74) from the floor and 33.3 percent (7-21) from behind the arc. While the Saints capitalized on their free throw attempts (6-of-8), the Pioneers managed to go just 12-of-29 (41.4%) from the charity stripe.
Entering the weekend with a minus five rebound margin, the Saints more than made up for it, outrebounding the Pioneers by 13 boards, after outrebounding South Plains the night before by 10.
Four Saints reached double-figures, led by Small's 14 points on 5-of-6 shooting. Hegel Augustine (13 pts), Reggie Miller (11 pts) and Mohamed Selmi (10 pts) joined Small in double-digits. Augustin also finished with 11 rebounds to complete his second double-double of his career.
The Saints will travel to Dodge City next weekend to play Hesston in the Dodge City Classic at 4:00 pm on Friday (Nov. 16) before finishing the Classic with Redlands on Saturday at 2:00 p.m.