Saints Blow Out Conqs
Brock Kappelmann - February 12, 2019 6:01 am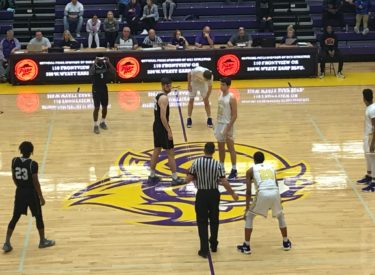 DODGE CITY, Kan. – The No. 17 Seward County men's basketball team blew past the Dodge City Conquistadors on Monday night, 111-80, to move to 21-5 overall and 14-3 in conference play.
After a fast start by the Conqs, the Saints found their groove to take a 17-13 lead just over six minutes into the game. While taking the lead, Seward used a 25-4 run to take a commanding 29-13 lead with eight minutes left in the game.
The Conquistadors fought back after the media break to cut the lead to 11 points. The Saints kept their distance, however, extending their lead back to fifteen points by a score of 38-23. Seward's offense continued to click as they took a 51-29 lead into halftime.
There was no slowing down the Saints offense to start the second half. Devin Bethely drilled a corner three to make it a 29-point game and force a Dodge City timeout. Right out of the timeout, Seward pushed their lead to thirty points.
With 11 minutes left in the game, the Saints began to rotate deep in their bench. The offense didn't fall off at all once the bench entered the game as Seward continued to trend toward triple digits until they reached the century mark. They pushed past the 100-point mark until they won the game 111-80.
The Saints shot 58 percent (43-for-74) from the floor and 47 percent (7-for-15) from deep. The Conqs shot 47 percent (28-for-60) from the floor and 33 percent (5-for-15) from deep.
Five Saints scored in double-digits, led by Isiah Small's 21 points. Devin Bethely (11 pts), Marco Morency (15 pts), Hegel Augustin (16 pts) and Eli Punnett (13 pts) each reached double-figures.
Seward will be back in the Greenhouse on Wednesday when they host the Colby Trojans at 8:00 p.m. Bank of Beaver City is the sponsor. Tickets can be found at Bank of Beaver City or the north Pizza Hut. The game airs on 107.5 and kscbnews.net.